You are here
Back to top
La piedra pagana / The Pagan Stone (Trilogia Signo del Siete III) (Paperback)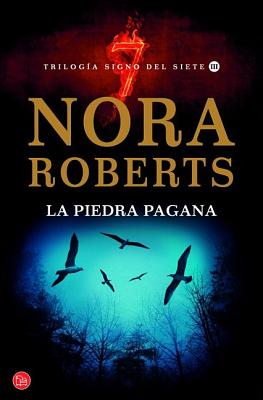 Description
---
El último libro de la trilogía EL SIGNO DEL SIETE.
El pequeño pueblo de Hawkins Hollow no resistirá un ataque más. El fin está más cerca que nunca…
Años atrás, después de llevar a cabo el ritual que los convirtió en hermanos de sangre, Gage, Fox y Caleb salieron del bosque cada uno con una parte de una sanguinaria. Ahora, esta piedra se ha convertido en un arma decisiva en la batalla final contra el demonio que liberaron. Esta vez, el ganador se lo llevará todo…
Pesadillas compartidas, visiones de sangre y fuego, y violencia aleatoria acosan a estos tres amigos de toda la vida, y a Quinn, Layla y Cybil, las mujeres que están unidas a ellos por la fuerza del destino. Ninguno de los seis puede negar el hecho de que este año el demonio se ha hecho más fuerte, debido a que se alimenta del terror que genera. Pero ahora han logrado unir los tres fragmentos de la sanguinaria en una sola piedra. Si sólo pudieran descifrar cómo usarla…

ENGLISH DESCRIPTION

The last book in the Sign of Seven Trilogy. Years ago, after their blood brother ritual, Gage, Fox, and Caleb emerged from the woods, each with a piece of bloodstone. Now, it will become their weapon in the final fight against the demon they awakened. This time, the winner will take all… Shared nightmares, visions of blood and fire, and random violence plague the longtime friends and Quinn, Layla and Cybil, the women bound to them by fate.
About the Author
---
Nora Roberts, la autora número 1 en ventas de The New York Times y «la escritora favorita de América», como la describió la revista The New Yorker, comentó en una ocasión: «Yo no escribo sobre Cenicientas que esperan sentadas a que venga a salvarlas su príncipe azul. Ellas se bastan y se sobran para salir adelante solas. El "príncipe" es como la paga extra, un complemento, algo más... pero no la única respuesta a sus problemas».

Más de cuatrocientos millones de ejemplares impresos de sus libros avalan la complicidad que Nora Roberts consigue establecer con mujeres de todo el mundo. El éxito de sus novelas es indudable, y quienes la leen una vez, repiten. Sabe hablar a las mujeres de hoy sobre sí mismas: sus lectoras son profesionales, fuertes e independientes, como los personajes que crea en sus libros, y sus historias llegan a un público femenino muy amplio porque son mucho más que novelas románticas.

Las cifras son fenomenales: Nora Roberts ha escrito más de 180 novelas que se publican en 34 países, se venden unas 27 novelas suyas cada minuto y 42 han debutado en la primera semana de ventas en el codiciado número 1 de The New York Times.