You are here
Back to top
The Certainty of Chance (Paperback)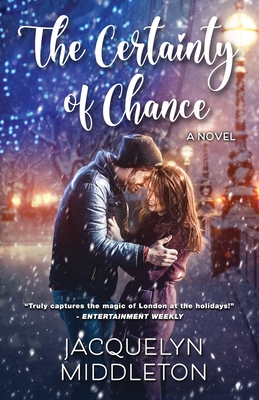 $16.95

Usually Ships in 1-5 Days
Description
---
THERE'S SOMETHING ABOUT DECEMBER…
Madeleine Joy is feeling more meh than merry. When an Icelandic volcano erupts six days before Christmas, hazardous ash congests European airspace, canceling flights indefinitely—including the thirtysomething's connection to Paris. Stranded alone in London, separated from her sister, and with the devastating one-year anniversary of her best friend's tragic death just days away, Madeleine has never felt less festive. And as if things couldn't get worse, the cute guy driving the cab to her hotel won't shut up about carolers and tinsel…

Julian Halliwell is one of life's sunny optimists. A former music journalist, he's embraced his love for London by starting his own black cab business, enthusiastically ferrying passengers from one historic landmark to another. But life hasn't always been easy for Julian. Having navigated several life-changing setbacks including a cruel betrayal by his former fiancée, Julian remains hopeful that he'll meet somebody kind, who shares his love of music, his corgi named Winnie, and of course, the magic of Christmas time in London.

Despite being an unlikely match, fate seems determined to throw them together. But can the grieving American find joy again in a world where the lights have all but dimmed?

From Jacquelyn Middleton, the award-winning author of UNTIL THE LAST STAR FADES, comes a heartwarming Christmas story of love, loss, serendipity, and the belief that what's meant for you won't pass you by.

About the Author
---
Jacquelyn Middleton is a multi-award-winning author of love stories for hopeful romantics-'hopeful' because her novels are always optimistic and she believes 'happily ever afters' are more important now than ever before. But life is messy, relationships are messy, and her books aren't afraid to go there, too. If you enjoy character and relationship-driven stories about people dealing with the triumphs and disasters we all face, Jacquelyn's books are for you. In 2019, she was named Best Canadian Author at the RWA's Toronto Romance Writers 'Northern Hearts' Awards for Until the Last Star Fades. She is also the author of London Belongs to Me, London, Can You Wait?, and Say Hello, Kiss Goodbye. An own voices author, Jacquelyn has dealt with anxiety, panic attacks, and depression all her life, and is dedicated to depicting mental health challenges realistically and empathetically in her novels. Jacquelyn's books have been featured by The Hollywood Reporter, NBC News, The Los Angeles Times, The New York Daily News, USA Today, Cosmopolitan, Redbook, Hypable, and The Huffington Post. A life-long Maple Leafs fan and Anglophile, Jacquelyn previously worked in television broadcasting and as an award-winning freelance writer. She loves comic cons, London, and theatre, and lives in Toronto with her British husband and her Japanese Spitz dog.
Praise For…
---
"Is there anything better than London at Christmas time? Glittering, hopeful, and touching, this is the perfect holiday read, especially for those who dream of a Christmas with tea and scones." --Teri Wilson, USA Today bestselling author of Once Upon a Royal Summer

"Racing the clock, Madeleine and Julian chase their undeniable connection, while facing their shared grief with grace. The perfect heartfelt holiday romance!" -- Kelly Siskind, author of New Orleans Rush

"If London has ever stolen a piece of your heart, The Certainty of Chance is the perfect holiday escape! Middleton delivers an uplifting romantic story against the backdrop of London at its sparkly, festive finest. Full of charm and heart, you'll root for Madeleine and Julian as they find solace in each other during a Christmas to remember." -- Kristin Contino, author of A House Full of Windsor

"Middleton's impressive descriptive skills are spotlighted throughout this narrative as she makes Christmas in London come alive on the pages...The real power, however, is in the author's ability to create identifiable and emotionally connective characters who readers can't help but root for. Madeleine & Julian...remind readers that where there is love there is always hope. Heartrending and heartwarming, this is an undeniably endearing romance, perfect to read over the holidays." --BlueInk Review, a partner of the American Library Association's Booklist (STARRED REVIEW)

"Destiny intervenes to stir up romance in this appealing and sensitive holiday affair...Anyone who's faced loss will easily empathize with Madeleine's distress, and Middleton crafts [Madeleine and Julian's] relationship into a mutually supportive, sweet connection. Great for fans of Helen Hoang's The Heart Principle." --Publishers Weekly's BookLife