You are here
Back to top
The Selfless Act of Breathing: A Novel (Paperback)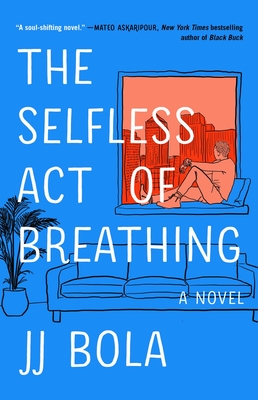 $17.00

Usually Ships in 1-5 Days
Description
---
A Black teacher searches for himself across the United States in this "emotive, brave" (Daily Mail, London) story for all of us who have fantasized about escaping our daily lives and starting over.

Michael Kabongo is a British Congolese teacher living in London and living the dream: he's beloved by his students, popular with his coworkers, and adored by his proud mother who emigrated from the Congo to the UK in search of a better life.

But when he suffers a devastating loss, his life is thrown into a tailspin. As he struggles to find a way forward, memories of his fathers' violent death, the weight of refugeehood, and an increasing sense of dread threaten everything he's worked so hard to achieve. Longing to start over, Michael decides to spontaneously pack up and go to America, the mythical "land of the free," where he imagines everything will be better and easier.

On this transformative journey, Michael travels everywhere from New York City to San Francisco, partying with new friends, sparking fleeting romances, and splurging on big adventures, with the intention of living the life of his dreams until the money in his bank account runs out.

"Narrated with haunting lyricism, The Selfless Act of Breathing is an intimate journey through the darkest of human impulses to the gleaming flickers of love and radical hope" (Susan Abulhawa, author of Against the Loveless World).
About the Author
---
JJ Bola is a writer, poet, and UNHCR Ambassador. He is the author of three poetry collections—Elevate, Daughter of the Sun, and WORD—which were later all published in one definitive collection called Refuge; a novel, No Place Like Home; and Mask Off: Masculinity Redefined, which exposes masculinity as a socially-conditioned performance. He was one of Spread the Word's Flight Associates 2017 and a Kit de Waal Scholar for the Birkbeck University MA in Creative Writing. As a former refugee, JJ Bola was invited to the Davos Economic Forum 2018 and held a discussion with Cate Blanchett. JJ reads, speaks, gives workshops, and performs around the world. He currently resides in London, England.
Praise For…
---
"[JJ Bola]'s style is highly descriptive, rich in simile and metaphor . . . [his work] is exceedingly timely, speaking to the condition of refugees today."
— Booklist

"In a world that makes it difficult for many of us to articulate our suffering, The Selfless Act of Breathing is a necessary invitation to scream when we feel like screaming, cry when we feel like crying, and prioritize our own often-neglected needs for love. JJ Bola crafted a soul-shifting novel that will let millions know it's okay to not be okay, and that the one of the most rewarding, and healing, places we can travel is into ourselves. The unwavering courage and care that Bola demonstrates with this work is to be revered." Mateo Askaripour, New York Times bestselling author of Black Buck

"A beautiful, absorbing read. By turns searing and quietly devastating." Irenosen Okojie

"The Selfless Act of Breathing feels existential and urgent as a millennial Mrs. Dalloway for a Black man who must straddle two worlds, two cultures, and two timelines, deciding where—and if—he wants to live. With prose as intimate as a private diary, as lush as spoken-word poetry, JJ Bola has artfully rendered this portrait of depression at once achingly empathetic and remarkably insightful." Afia Atakora, American Historian Prize Winning author of Conjure Women

"Absolutely stunning." Elizabeth Day, author of Magpie



"Bola proves himself a master of mood and empathy. Altogether, his novel is an excellent and heartrending effort." Booklist



"Narrated with haunting lyricism, The Selfless Act of Breathing is an intimate journey through the darkest of human impulses to the gleaming flickers of love and radical hope." Susan Abulhawa, Palestine Book Award-winning author of Against the Loveless World



"An emotive, brave novel that ultimately holds out the prospect of salvation, without sacrificing any of its power." Daily Mail



"Bola's insightful, intimate and lyrical work has been entrancing readers… Reminiscent of Paul Beatty and Ralph Ellison." The Bookseller



"Bola makes an interesting decision to skip a dramatic pivot point; though sure to irritate some, this imbues the book's closing scene with mystery, and honors the weight of its themes while providing a spark of hope." Hephzibah Anderson, Guardian