You are here
Back to top
The Professor of Immortality (Hardcover)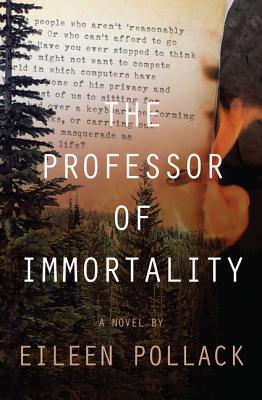 $26.00
Usually Ships in 1-5 Days
Description
---
Professor Maxine Sayers once found her personal and professional life so fulfilling that she founded the Institute of Future Studies, a program dedicated to studying the effects of technology on our culture and finding ways to prolong human life. But when her beloved husband dies, she is so devastated she can barely get out of bed. To make matters worse, her son, Zach, has abruptly quit his job in Silicon Valley and been out of contact for seven months.
Maxine is jolted from her grief by her sudden suspicion that a favorite former student (and a former close friend of her son) might be a terrorist called the Technobomber and that Zach might either be involved in or become a victim of this extremist's bombing. Deserting her teaching responsibilities, her ailing mother, and an appealing suitor, Maxine feels compelled to set out and search for her son in order to warn and protect him, even as she knows she should report her suspicions to the FBI to prevent greater carnage.
About the Author
---
Eileen Pollack graduated with a BS in physics from Yale and earned an MFA in creative writing from the University of Iowa. She is the author of the novels The Bible of Dirty Jokes, A Perfect Life, Breaking and Entering, and Paradise, New York, the short-story collections In the Mouth and The Rabbi in the Attic, and the nonfiction books The Only Woman in the Room: Why Science Is Still a Boys' Club and Woman Walking Ahead: In Search of Catherine Weldon and Sitting Bull. She has received fellowships from the National Endowment for the Arts, the Michener Foundation, the Rona Jaffe Foundation, and the Massachusetts Arts Council. Her novella "The Bris" was chosen to appear in Best American Short Stories, edited by Stephen King; two other stories have been awarded Pushcart Prizes, and her essay "Pigeons" was selected by Cheryl Strayed for Best American Essays. Formerly the director of the MFA Program in Creative Writing at the University of Michigan, she now lives in New York City.
Praise For…
---
"Pollack blends crime thriller and family drama into a provocative... novel."
— Publishers Weekly

"Intimate, sweeping, funny, terrifying, and most of all dead-on in its observations of what it means to want to know everything about people we love while still being frightened of what we might find out: it's a detective story, and a story of motherlove. Eileen Pollack is a splendid writer."
— Elizabeth McCracken, author of s>Bowlaway

"The Professor of Immortality is a tragicomedy about the paradoxes of trying to be a decent human, and—maybe even trickier—of trying to be a decent mom. It's also page by page a joy to read. Eileen Pollack is one of the smartest, funniest and most companionable novelists out there."
— Rivka Galchen, author of Atmospheric Disturbances

"In this exceptional novel, Eileen Pollack writes with great immediacy about the impact of grief on a parent's perception of the world. Tender, wry, full of unexpected revelations, The Professor of Immortality gripped me from the first scene, and the urgent questions it poses have stayed with me."
— Idra Novey, author of Those Who Knew

Praise for Eileen Pollack: "The book is heartwarming, and addresses some serious issues regarding women's available choices and the way their bodies are used, both literally and figuratively."
— The New York Times on The Bible of Dirty Jokes

"A Perfect Life probes how we live in the face of uncertainty and the ways risk can both disable and empower us. In her latest novel, Eileen Pollack has crafted a tender exploration of family love that is as smart and thought-provoking as it is moving."
— Celeste Ng, author of Little Fires Everywhere, on A Perfect Life

"[An] absorbing genetic mystery that is couched in a complicated love story and a tale of survival.... Pollack's combination of gritty romance and medical suspense will have readers thinking about mortality and the bonds of family long after finishing."
— Publishers Weekly on A Perfect Life

"Hard-hitting, difficult to read, and impossible to put down." 
— Kirkus Reviews on The Only Woman in the Room

"Pollack is an engaging writer with a first-rate eye for the telling sociological detail."
— The New York Times on Breaking and Entering

"A rich and satisfying novel that explores in a significant way contemporary issues of family, religion and politics."
— Kirkus Reviews on Breaking and Entering