You are here
Back to top
Fierce Cowboy Wolf (Seven Range Shifters) (Mass Market)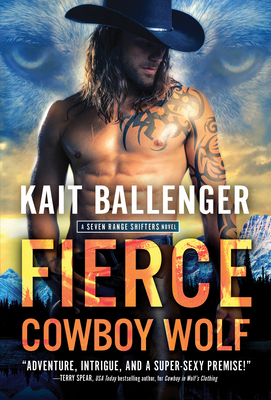 $8.99

Usually Ships in 1-5 Days
Description
---
"What do you have to say for yourself, Packmaster?' she growled.
And that alone sealed his decision.
He needed a wife of convenience, with no attachments or love—and who better than a she-wolf who hated him?
Maverick never backed down from a challenge.
His eyes flashed to his wolf as he met Sierra's gaze head-on. 'Marry me."
Sierra Cavanaugh has triumphed to become the first female elite warrior in Grey Wolf history. All she needs is the pack council's approval. But those stuffy, old wolves refuse to elect her unless she finds herself a mate.
Packmaster Maverick Grey was reconciled to spending the rest of his life alone. Now, all the Seven Range clans are working on a treaty, and he needs the elite warrior vacancy filled—and fast. If Sierra needs a mate, this is his chance to claim her. But Sierra has an agenda of her own for their union.
For these two rivals, the only thing more dangerous than fighting the enemy at their backs is resisting the attraction that's building between them...
Enemies to lovers romance
Alpha hero with a big ego
Kick-ass warrior heroine unafraid to take what she needs
Marriage of convenience
A team of warriors who'll stop at nothing to protect the pack
"Kait Ballenger is a treasure you don't want to miss."—GENA SHOWALTER, New York Times bestselling author
About the Author
---
Kait Ballenger hated reading when she was a child, because she was horrible at it. Then by chance she picked up the Harry Potter series, magically fell in love with reading, and never looked back. When she realized shortly after that she could tell her own stories, and they could be about falling in love, her fate was sealed.