You are here
Back to top
The Family Lawyer (Mass Market)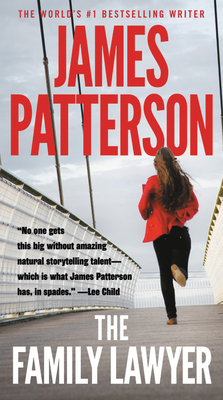 Description
---
A collection of three thrilling James Patterson stories: a criminal defense attorney investigating a bullying accusation, the NYPD's most brilliant detective facing her darkest fears to prevent a string of crimes, and a woman investigating the murder of her brother-in-law.
The Family Lawyer with Robert Rotstein: Matthew Hovanes is living a parent's worst nightmare: his young daughter is accused of bullying another girl into suicide. But this loving father is also a skilled criminal defense attorney. And something here doesn't add up . . .
Night Sniper with Christopher Charles: Cheryl Mabern is the NYPD's most brilliant and troubled detective. Now she must confront her darkest fears to stop a calculating killer committing random murders.
The Good Sister with Rachel Howzell Hall: Her beloved sister's cheating husband has been found dead. Now, Dani Lawrence must decide if she will help the investigation that could put her sister away . . . or obstruct it by any means necessary.
About the Author
---
James Patterson is the world's bestselling author and most trusted storyteller. He has created many enduring fictional characters and series, including Alex Cross, the Women's Murder Club, Michael Bennett, Maximum Ride, Middle School, and I Funny. Among his notable literary collaborations are The President Is Missing, with President Bill Clinton, and the Max Einstein series, produced in partnership with the Albert Einstein Estate. Patterson's writing career is characterized by a single mission: to prove that there is no such thing as a person who "doesn't like to read," only people who haven't found the right book. He's given over three million books to schoolkids and the military, donated more than seventy million dollars to support education, and endowed over five thousand college scholarships for teachers. The National Book Foundation recently presented Patterson with the Literarian Award for Outstanding Service to the American Literary Community, and he is also the recipient of an Edgar Award and six Emmy Awards. He lives in Florida with his family.
Praise For…
---
"Behind all the noise and the numbers, we
shouldn't forget that no one gets this big without amazing natural
storytelling talent--which is what James Patterson has, in spades."—Lee Child

"It's no mystery why James Patterson is the world's most popular
thriller writer: his uncanny skill in creating living, breathing
characters we truly feel for and seamless, lightning-fast plots. I do
this for a living, and he still manages to keep me guessing from the
first to last page. Simply put: Nobody does it better."—Jeffrey Deaver

"James Patterson is The Boss. End of."—Ian Rankin