You are here
Back to top
The Rebel and the Rake (League of Scoundrels #2) (Mass Market)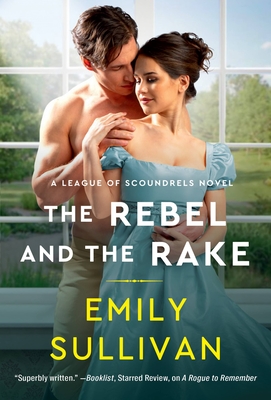 $8.99
Email or call for price
Description
---
Fans of Netflix's Bridgerton series will love this enchanting story of a spy who finds himself entangled with the most intriguing bluestocking—from the series that delivers "both emotional intensity and lush sensuality, and vivacious writing enhanced by ample measures of wit". (Booklist, Starred Review)

Rafe Davies might seem like just another charismatic rake, but in reality, he is one of the crown's most valuable agents. As relentless as he is reckless, Rafe has never come upon a mission he couldn't complete. But when he encounters the intriguing-yet-prickly lady's companion Miss Sylvia Sparrow while on assignment at a Scottish house party, he finds himself thoroughly distracted by the secretive beauty.

Though most women would be thrilled to catch the eye of a tall, dark, and dangerously handsome man, Sylvia is through with that sort of adventure. She trusted the wrong man once and paid for it dearly. The fiery bluestocking is resolved to avoid Rafe, until a chance encounter between them reveals the normally irreverent man's unexpected depths—and an attraction that's impossible to ignore. But when Sylvia begins to suspect she isn't the only one harboring a few secrets, she realizes that Rafe may pose a risk to far more than her heart. 
About the Author
---
Emily Sullivan is an award-winning author of historical fiction set in the late Victorian period. She lives in New England with her adorable baby and slightly less adorable husband. She enjoys taking long drives, short walks, and always orders dessert.
Praise For…
---
"One particular gem of a new voice is Emily Sullivan, whose 19th century tales of romance and intrigue are designed to keep a reader on the edge of their seat….The Rebel and The Rake will steal readers' hearts before they even realize it's gone, entangling them in the storytelling with much the same stealth as Rafe's investigations."—Entertainment Weekly

"After wowing readers with her superb debut, rising historical romance star Sullivan returns with another entrancing addition to her League of Scoundrels series that brilliantly showcases her mastery of deep characterization as well as her gift for crafting a wit-infused plot that effectively threads the needle between desire and danger without dropping a single stitch."—Booklist, Starred Review

"Danger and desire intertwine in this tale of deception and injustice, an engrossing read that follows two characters who deserve their happily ever after."—Bookpage

"The literary charms of Sullivan's superbly written debut are many, including a full cast of deftly nuanced characters, an exquisitely evoked Italian setting that would impress E.M. Forster, love scenes that deliver both emotional intensity and lush sensuality, and vivacious writing enhanced by ample measures of wit."—Booklist, Starred Review, on A Rogue to Remember

"[A] winning debut.... This satisfying love story will especially appeal to historical romance fans looking for a break from the typical English setting."—Publishers Weekly, on A Rogue to Remember

"The subterfuge provides an intense backdrop that only enhances the complex romance between Sullivan's intelligent, progressive protagonists. Readers will be taken by independent Sylvia's quest for love and companionship."—Publisher's Weekly