You are here
Back to top
First Love, Take Two (Paperback)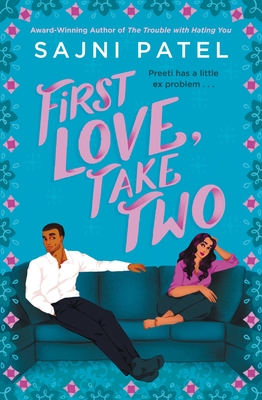 $15.99

Usually Ships in 1-5 Days
Description
---
On the verge of realizing her dream of being a doctor, Preeti Patel should be ecstatic. But between the stress of her residency, trying to find a job, and managing her traditional, no-boundaries family, Preeti's anxiety is through the roof. Relationships and love aren't even an option. Fortunately, Preeti's finally found a new place to stay . . . only to discover that her new roommate is her ex.

Preeti never quite got over Daniel Thompson. Super-hot, plenty of swagger, amazing cook—the guy is practically perfect. And if it weren't for their families, there might have been a happily ever after. But it's hard to keep her sanity and libido in check when the man of her dreams is sleeping mere feet away. Can Preeti and Daniel find a way to stand up and fight for each other one last time . . . before they lose their second chance?
About the Author
---
Award-winning author Sajni Patel was born in vibrant India and raised in the heart of Texas. She draws on personal experiences, cultural expectations, and Southern flair to create worlds centered around strong Indian women. Once in MMA, she's now all about puppies, rainbows, and tortured love stories. She divides her time between Hawai'i (where honu is her #1 obsession) and Austin (where she not-so-secretly watches Matthew McConaughey from afar during UT football games). Queso is her weakness and thanks to her family's cooking, Indian/Tex-Mex cuisine is a real thing. She's a die-hard Marvel Comics fan, an ube fanatic, and is always wrapped up in a story.
Praise For…
---
"Liya and Jay are a couple I've been waiting forever to meet in a romance novel. The Trouble with Hating You has delicious banter, deep wounds, heartwarming friendships, and a path to love that often feels impossibly hard, and the payoff is satisfying enough to give you a book hangover the size of Texas."—Sonali Dev, USA Today bestselling author

"With witty banter and fascinating characters, Sajni Patel takes the classic enemies-to-lovers trope to a deliciously charming level. I loved everything about this book."—Farrah Rochon, USA Today bestselling author

"This is a crowd pleaser."—Publishers Weekly

"The enemies-to-lovers arc is classic, but the cultural specificity [Sajni] Patel brings makes this rom-com feel fun and fresh."—Publishers Weekly, on The Trouble with Hating You

"Sajni Patel bursts onto the scene with a debut that will make you laugh!"—Jenny Holiday, USA Today bestselling author

"The Trouble with Hating You was everything I needed --witty banter, explosive chemistry, and a hard won HEA that still has me smiling long after reading the last page. I can't wait for Sajni's next book!"—A.J. Pine, USA Today bestselling author

"An enjoyable debut! The chemistry between Liya and Jay is off the charts. You'll be rooting for these two from their first meeting!"—Farah Heron

"Patel's vivid comedy of conflict and love within an upscale, urban Indian American enclave features endearing protagonists..."—Booklist, on The Trouble with Hating You

" . . . a rewarding romance set in an intriguing world that combines proper second-generation Indian Americans with a Texan swagger."—Shelf Awareness, on The Trouble with Hating You