You are here
Back to top
Home Before Dark: A Novel (Hardcover)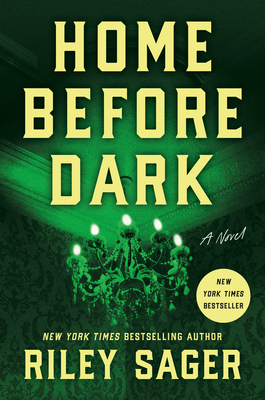 $27.00
Email or call for price
Description
---
THE INSTANT NEW YORK TIMES BESTSELLER • One of USA Today's Best Books of 2020

"A haunted house story—with a twist….[Sager] does not hold back"(Rolling Stone) in this chilling thriller from the author of Final Girls and Survive the Night.
 
Every house has a story to tell and a secret to share.

Twenty-five years ago, Maggie Holt and her parents moved into Baneberry Hall, a rambling Victorian estate in the Vermont woods. Three weeks later they fled in the dead of night, an ordeal her father recounted in a memoir called House of Horrors. His story of supernatural happenings and malevolent spirits became a worldwide phenomenon, rivaling The Amityville Horror in popularity—and skepticism.

Maggie was too young to remember any of the horrific events that supposedly took place, and as an adult she doesn't believe a word of her father's claims. Ghosts, after all, don't exist. When she inherits Baneberry Hall after his death and returns to renovate the place and sell it, her homecoming is anything but warm. The locals aren't thrilled that their small town has been made infamous, and human characters with starring roles in House of Horrors are waiting in the shadows.
 
Even more unnerving is Baneberry Hall itself—a place where unsettling whispers of the past lurk around every corner. And as Maggie starts to experience strange occurrences ripped from the pages of her father's book, the truth she uncovers about the house's dark history will challenge everything she believes.
About the Author
---
Riley Sager is the New York Times bestselling author of seven novels, most recently The Only One Left and The House Across the Lake. A native of Pennsylvania, he now lives in Princeton, New Jersey.
Praise For…
---
"A dark, frightening and twisty story that you won't be able to put down. Read with the lights on!"
—Shari Lapena, New York Times bestselling author of The Couple Next Door

"A cross between Gillian Flynn's Dark Places and ghost hunter heir Alexandra Holzer's autobiography, Sager's latest is a haunted house story—with a twist. . . . Sager is a master of the twist and the turn, and he does not hold back in his fourth book. Like any good thriller, you have to read to the very last page to find how who did what to whom and why."
—Rolling Stone

"Sager's novel is packed with the expected horror-trope-tinged suspense, literary jump-scares, and more than one twist, but its best moments are the quiet ones exploring the history of the house."
—USA Today

"Something fresh, shot through with shocks of real horror."
—New York Times Book Review

"[A] propulsive thriller . . . There are truly horrifying scenes. . . . Maggie soon learns what we already know: Real life is scarier than ghost stories."
–Washington Post

"Riley Sager reimagines the classic haunted house tale in Home Before Dark, a stunning tale that blends genres with the ease of a master painter mixing colors. . . . This is scintillating suspense writing, Sager leaving no stone unturned in crafting a page-turner of rare depth and complexity."
—The Providence Journal

"This spooky, surreal haunted-house story goes through plenty of twists at the end. . . . Sager has become one of my favorites for gothic stories that scare and make you think."
—The Parkersburg News & Sentinel

"You might believe in ghosts; you might not. But a story with a ghost inhabiting a creaky old house and haunting its new residents is simply irresistible. At least in the right hands, and Riley Sager's definitely are the right hands. From the shadowy figures in the woods to the sounds that go bump in the night, Home Before Dark is certain to creep you out."
—Bookreporter

"Clever, twisty, and altogether spine-chilling . . . [A] deliciously terrifying story . . .You'll want to read this one after dark, ideally with the wind whistling in the eaves and a window banging somewhere just out of reach. But keep the light switch handy. You just might need it."
—Ruth Ware, Book of the Month

"Sager has laid out an exciting story that is hard to put down."
—New York Journal of Books

"Home Before Dark pays homage to The Amityville Horror and, as in Sager's other novels, the story blends psychological suspense with elements of classic horror, for a creepy, edge-of-your-seat read."
–BuzzFeed

"Home Before Dark is a compelling and layered mix of taut psychological suspense, genuinely scary haunted-house terrors, and the vagaries of memory, capped off with an inventive and satisfyingly wild ending." 
–Bookpage, starred review

"What could be better than a haunted house with ghosts aplenty? Home Before Dark is equally superb and terrifying. Buckle up for a wild ride. This book should come with a warning not to be read after dark." 
–Mary Kubica, New York Times bestselling author of The Other Mrs.

"Flawless pacing, a dexterous dual narrative, and character through the roof. But the biggest revelation to be found in Home Before Dark is this: There's nobody writing scarier books than Riley Sager is right now."
–Josh Malerman, New York Times bestselling author of Bird Box and Malorie

"[Sager] really pulls off something ingenious here."
–Erik Larson on Mental Floss

"Holy moly, I haven't been that shocked by a twist in quite some time. I actually laughed aloud when the big reveal came-because I was so delighted to have been so fooled. It's hard to write a book that's equal parts fun and frightening but Sager has done just that-and thrown in impeccable plotting for good measure. If you liked The Haunting of Hill House, you're going to love Home Before Dark. Addictive and atmospheric with a twist you definitely won't see coming."
–Stephanie Wrobel, bestselling author of Darling Rose Gold

"Houses breathe. Some have a heartbeat. None forget. Grabbing you from the first page, Riley Sager crafts a devilish plot, twisted timelines, and horrors that linger in this haunting thriller that needs to be on your reading list!"
–J. D. Barker, international bestselling author of She Has a Broken Thing Where Her Heart Should Be

"Part ghost story, part murder mystery, Home Before Dark is a nightmare ride of haunting terror and suspense. Dripping with atmosphere and danger, Baneberry Hall is the new Hill House. I couldn't turn the last 100 pages fast enough."
–Richard Chizmar, New York Times bestselling author

"[An] outstanding supernatural thriller . . . Sager, who makes the house a palpable, threatening presence, does a superb job of anticipating and undermining readers' expectations. Haunted- house fans will be in heaven."
–Publishers Weekly, starred review

"The ghosts and poltergeist activity Sager conjures are truly chilling, and he does a masterful job of keeping readers guessing until the very end."
–Kirkus Reviews

"For fans of the Amityville Horror story comes yet another breath-stealer from the hit machine Sager."
–Good Housekeeping, "The 35 Best Books to Add to Your Reading List ASAP"

"Sager does a superb job of upsetting reader expectations in this horror thriller."
–Publishers Weekly, "Summer Reads 2020"

"Enough twists to keep you guessing until the final, shocking chapter unfolds."
–PopSugar

"King of thrillers, Sager returns with a pulse-pounding, goosebump-inducing tale of a woman who goes back to her childhood home—and the setting of a true horror story."
–Newsweek

"Another breathtaking hit from Sager, who's proven himself a master at crafting new twists on classic horror tales."
–Booklist

"If you love your thrillers with a touch of the supernatural, Sager's haunting new bestseller is just the thing to tingle your spine. . . . This is a keep-the-lights-on winner from the horror master."
–AARP

"[E]verything you want from a haunted-house story, and never quite what you expect."
–Mental Floss, "13 Essential Horror Novels From the Last Five Years