You are here
Back to top
Confessions of an Innocent Man: A Novel (Hardcover)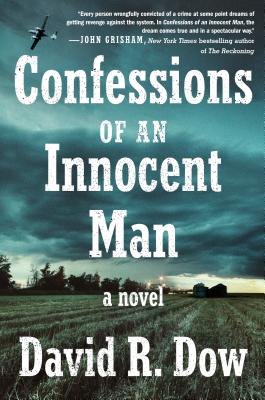 $27.00
Email or call for price
Description
---
"Every person wrongfully convicted of a crime at some point dreams of getting revenge against the system. In Confessions of an Innocent Man, the dream comes true and in a spectacular way."—John Grisham, New York Times bestselling author of The Reckoning 

A thrillingly suspenseful debut novel and a fierce howl of rage that questions the true meaning of justice.

Rafael Zhettah relishes the simplicity and freedom of his life. He is the owner and head chef of a promising Houston restaurant, a pilot with open access to the boundless Texas horizon, and a bachelor, content with having few personal or material attachments that ground him. Then, lightning strikes. When he finds Tieresse—billionaire, philanthropist, sophisticate, bombshell—sitting at one of his tables, he also finds his soul mate and his life starts again. And just as fast, when she is brutally murdered in their home, when he is convicted of the crime, when he is sentenced to die, it is all ripped away. But for Rafael Zhettah, death row is not the end. It is only the beginning. Now, with his recaptured freedom, he will stop at nothing to deliver justice to those who stole everything from him.

This is a heart-stoppingly suspenseful, devastating, page-turning debut novel. A thriller with a relentless grip that wants you to read it in one sitting. David R. Dow has dedicated his life to the fight against capital punishment—to righting the horrific injustices of the death penalty regime in Texas. He delivers the perfect modern parable for exploring our complex, uneasy relationships with punishment and reparation in a terribly unjust world.
About the Author
---
David R. Dow is the Cullen Professor at the University of Houston Law Center and the Rorschach Visiting Professor of History at Rice University. A graduate of Rice and Yale, Dow's areas of expertise include constitutional law and theory, contract law, and death penalty law. Working with students in his death penalty clinic, Dow has represented more than one hundred death-row inmates during their state and federal appeals. He is also the founder and director of the Texas Innocence Network.

He lives in Houston and Park City, Utah, with his wife, Katya, their son, Lincoln, and their dogs, Delano and Soul.
Praise For…
---
Praise for Confessions of an Innocent Man

"Best Mystery Books of 2019"—The Wall Street Journal

"Every person wrongfully convicted of a crime at some point dreams of getting revenge against the system. In Confessions of an Innocent Man, the dream comes true and in a spectacular way. As I zipped through the pages, I kept thinking, 'This book is too thin. I want more.' "—John Grisham, New York Times bestselling author of The Reckoning

"Mr. Dow [is] a born writer if ever there was one."—The Wall Street Journal

"Suppose you were arrested, tried, and sentenced to die for a murder you didn't commit, then vindicated and freed at the last possible minute. What would you do? Would you try to go back to the old life you'd nearly lost? Or would you punish those who'd stolen it from you? In Confessions of an Innocent Man, David R. Dow, who knows more about death row than any other person who's never lived there, puts you in the place of a victim of the system whose soul has been shriveled by rage, then invites you to take a look in the mirror. The result is a terrifying modern-day revenger's tale, one whose furious, irresistible momentum will sweep you up—and make you think."—Terry Teachout, drama critic for The Wall Street Journal

"An impressive fiction debut....The plot is a page-turner, and the addition of Dow's knowledge of the legal machinery of death and his nuanced characterization of his lead elevate this above similarly themed legal thrillers."—Publishers Weekly (starred review)

 "[Confessions of an Innocent Man] explores wrongful convictions, the death penalty and appeals process, life on death row, and exoneration. It's also about duplicity—the honest and hardworking man becoming a criminal only after a wrongful conviction; a legal system that seems too often to pit police, prosecutors, and judges against the truth—and features an ingenious, well-planned, and perfectly executed revenge. This fast-paced legal thriller powerfully captures themes of love, surrender, despair, and vengeance. It will appeal to fans of Phillip Margolin and George Pelecanos, and pair nicely with Anthony Ray Hinton's memoir The Sun Does Shine."—Library Journal (starred review)

"A debut novel that's a page-turner with a message....[Dow's] criminal justice work is a clear influence on this novel, and his passion bleeds through on every page. The claustrophobic nature of prisons, the routine cruelty, the anonymous suffering, the decrepit conditions—they all come through in straightforward, well-written prose. . . . A solidly suspenseful novel."—Kirkus Reviews

"This thought-provoking debut...[an] absorbing tale of misfortune takes readers inside the mind of a good man who's desperate to prove his innocence as well as inside the world of a maximum-security prison and the horror that is death row. . . . The questions of who gets justice and why court procedure seems to take such precedence over individual lives will stay with readers after the satisfying ending to this surprising read."—Booklist

"A powerful, thought-provoking debut thriller that's not to be missed...Taking readers inside [his protagonist] Rafael mindset, Dow projects his anguish and pain, prompting an emotional response from readers who, with every page, will find themselves holding their breath as he sets out to right wrongs in his own way, cheering him on as he goes. The characters are well-developed, the pacing is fast, and the story is absolutely stunning. Confessions of an Innocent Man is a red-hot debut that falls somewhere between a work of psychological suspense and a legal thriller, and should attract fans of both."—The Real Book Spy on Crime Reads