You are here
Back to top
The Broken Road: A Novel (The Broken Road Series #1) (Paperback)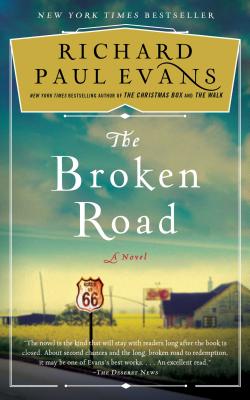 $15.99

Usually Ships in 1-5 Days
Description
---
A broken man. A twist of fate. A second chance. The #1 New York Times bestselling author of The Mistletoe Promise and The Walk begins a riveting new trilogy that explores the tantalizing question: What if you could start over?

Chicago celebrity Charles James can't shake the nightmare that wakes him each night. He sees himself walking down a long, broken highway lined in flames. Where is he going? Why is he walking? What is the wailing he hears around him?

By day, he wonders why he's so haunted and unhappy when he has all he ever wanted—fame, fans, and fortune and the lavish lifestyle it affords him. Coming from a childhood of poverty and pain, this is what he's dreamed of. But now, at the pinnacle of his career, he's started to wonder if he's wanted the wrong things. His wealth has come legally, but questionably, from the power of his personality, seducing people out of their hard-earned money. When he learns that one of his customers has committed suicide because of financial ruin, Charles is shaken. The cracks in his façade start to break down, spurring him to question everything: his choices, his relationships, his future, and the type of man he's become.

Then a twist of fate changes everything. Charles is granted something very remarkable: a second chance. The question is: what will he do with it?

The Broken Road is an engrossing, contemplative story of redemption and grace and the power of second chances. It is an epic journey you won't soon forget.
About the Author
---
Richard Paul Evans is the #1 New York Times and USA TODAY bestselling author of more than forty novels. There are currently more than thirty-five million copies of his books in print worldwide, translated into more than twenty-four languages. Richard is the recipient of numerous awards, including two first place Storytelling World Awards, the Romantic Times Best Women's Novel of the Year Award, and is a five-time recipient of the Religion Communicators Council's Wilbur Awards. Seven of Richard's books have been produced as television movies. His first feature film, The Noel Diary, starring Justin Hartley (This Is Us) and acclaimed film director, Charles Shyer (Private Benjamin, Father of the Bride), will debut in 2022. In 2011 Richard began writing Michael Vey, a #1 New York Times bestselling young adult series which has won more than a dozen awards. Richard is the founder of The Christmas Box International, an organization devoted to maintaining emergency children's shelters and providing services and resources for abused, neglected, or homeless children and young adults. To date, more than 125,000 youths have been helped by the charity. For his humanitarian work, Richard has received the Washington Times Humanitarian of the Century Award and the Volunteers of America National Empathy Award. Richard lives in Salt Lake City, Utah, with his wife, Keri, and their five children and two grandchildren. You can learn more about Richard on his website RichardPaulEvans.com.
Praise For…
---
Praise for THE WALK

***A NEW YORK TIMES BESTSELLER***

"Definitely a journey worth taking."
—Booklist

"Richard Paul Evans has proven to be one of America's most precious gifts... an inspirational writer who has the ability to read our very souls and heal broken hearts... His books are the ones you can't wait to finish, but when you do, you wish you hadn't. I suggest readers accompany Evans on The Walk."
—New York Journal of Books

"Hoda and I both thoroughly enjoyed this book... The Walk is beautifully written."
—Kathie Lee Gifford

Praise for THE ROAD TO GRACE

***A NEW YORK TIMES BESTSELLER***

"There's no doubt Evans knows how to keep the pages turning. A cliff-hanger ending ups the stakes, putting Alan's journey in jeopardy and ensuring readers will come back for the fourth outing. There's no stopping now."
—Booklist

"A fast and pleasurable read with plenty of local color and enough sentiment to evoke a tear or two."
—Kirkus

"Though written with a religious tone, The Road to Grace is for people of all beliefs. It is an intriguing story that is simply enjoyable to read."
—Deseret Morning News

Praise for WALKING ON WATER

***A NEW YORK TIMES BESTSELLER***

"Evans moves events along at a rapid-fire pace. . . . Christoffersen's unconventional road trip travels a path of self-discovery and determination."
—Publisher's Weekly

"There are humorous moments, heartwarming moments, moments of self-discovery and moments of profound wisdom."
—Deseret Morning News