You are here
Back to top
That Mistletoe Moment (Paperback)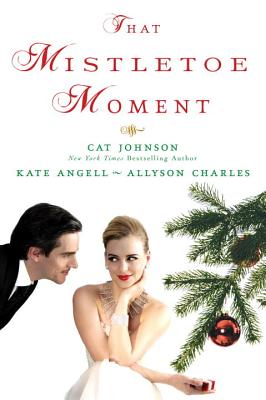 Description
---
As the holidays descend, three single women take a thoroughly modern approach to good old-fashioned romance, and wonder if the best—and most complicated—gift of all is just a click, tap, or swipe away…
 
MADE UP
Like a Christmas miracle, the Build a Boyfriend App lets you simply input the stats of your dream man, and witty texts, passionate emails, and hot Instagram pics start flooding in. No more awkward questions or pitying looks as you face the holidays alone!
 
MIXED UP
But even the best technology has its glitches. When real-life emotions come into play, this trio of
twenty-somethings find themselves in a tangle of crossed signals, flying wrapping paper, disastrous Christmas parties…and surprising kisses.
 
MATCHED UP
Yet despite the confusion of their mistletoe misadventures, when the New Year dawns, these very satisfied women just may find themselves waking up with true love beside them.
 
Praise for
 
New York Times Bestselling Author Cat Johnson
"Loaded with tender emotions and red hot love scenes" --Fresh Fiction on One Night with a Cowboy
 
USA Today Bestselling Author Kate Angell
"A sparkling writer who combines humor and sizzling romance." --Kirkus Reviews
About the Author
---
A New York Times and USA Today bestselling author, Cat Johnson writes contemporary romance in genres including military and western. Known for her unique marketing and research techniques, she has sponsored pro bull riders, owns a collection of camouflage and western footwear for book signings, and a fair number of her consultants wear combat or cowboy boots for a living. For more visit CatJohnson.net.  

USA Today bestselling author Kate Angell lives in Naples, Florida. She's an animal lover, avid reader, and sports fan. Bookstores are her second home. She takes coffee breaks at Starbucks. Her philosophy: Out of chaos comes calmness. Enjoy the peace. Please visit her on Facebook or at www.kateangell.com.
 
Allyson Charles lives in Northern California. She's the author of the contemporary romances Putting Out Old Flames and The Christmas Tree (Kensington Lyrical). A former attorney, she happily ditched those suits and now works in her pajamas writing about men's briefs instead of legal briefs. When she's not writing, she's probably engaged in one of her favorite hobbies: napping, eating, or martial arts (That last one almost makes up for the first two, right?). One of Allyson's greatest disappointments is living in a state that doesn't have any Cracker Barrels in it. You can find her at www.allysoncharles.com or @1allysoncharles.