You are here
Back to top
What Happens Under the Mistletoe (Mass Market)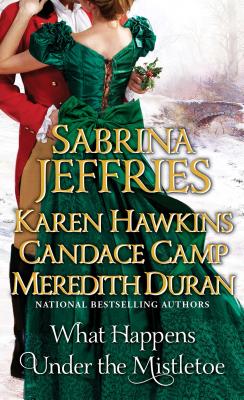 $9.99
Email or call for price
Description
---
New York Times bestselling authors Sabrina Jeffries, Karen Hawkins, and Candace Camp, and USA TODAY bestselling author Meredith Duran come together for a sizzling historical romance holiday anthology.

Stunned by the heat of an unexpected kiss on a cold winter's eve, two strangers from vastly different worlds turn hotheaded principles into burning passion in Sabrina Jeffries's delightful yuletide story, The Heiress and the Hothead. In the snowy Scottish countryside, Karen Hawkins's rakish duke has an unforgettable holiday encounter in Twelve Kisses when the alluring lady he surprises under the mistletoe is not who he expected, but a long-lost love with a score to settle. In By Any Other Name, Edinburgh is aglitter for Christmastime as Candace Camp sends a curious gentleman in hot pursuit of an intriguing lady in disguise—one who refuses to reveal her true identity, though she fears he has already stolen her heart with his kiss. In Sweetest Regret, will the festive spirit of the season sweep Meredith Duran's feisty heroine beneath the mistletoe—and back into the arms of the dashing rogue whose carelessness soiled her reputation and sent her into exile in London?

In this all-new story collection sparkling with sexy charm and heartwarming wit, four beloved bestselling authors reveal the mix-ups and make-ups, the missed chances and golden opportunities that come but once a year.
About the Author
---
Sabrina Jeffries is the New York Times and USA TODAY bestselling author of several Regency-set historical romance series, including the Royal Brotherhood, the School for Heiresses, the Hellions of Halstead Hall, the Duke's Men, and the Sinful Suitors. When she's not writing in a coffee-fueled haze, she's traveling with her husband, caring for her adult autistic son, or indulging in one of her passions: jigsaw puzzles, chocolate, music, and costume parties. With more than nine million books in print in twenty languages, the North Carolina author never regrets tossing aside a budding career in academics for the sheer joy of writing fun fiction and hopes that one day a book of hers will end up saving the world. She always dreams big.

New York Times and USA TODAY bestselling author Karen Hawkins writes novels that have been praised as touching, witty, charming, and heartwarming. A native Southerner who grew up in the mountains of East Tennessee where storytelling is a way of life, Karen recently moved to frosty New England with her beloved husband and multiple foster dogs. The Dove Pond series is a nod to the thousands of books that opened doors for her to more adventures, places, and discoveries than she ever imagined possible. To find out more about Karen, check in with her at Facebook.com/KarenHawkinsWriter, @KarenHawkinsAuthor on Instagram, and at her website, KarenHawkins.com.

Candace Camp is a New York Times and USA TODAY bestselling author of more than sixty novels of contemporary and historical romance, including the bestselling Regency romances Enraptured, Treasured, and The Marrying Season. She is also the author of The Mad Morelands series, Before the Dawn, and Heartwood. She grew up in Texas in a newspaper family, which explains her love of writing, but she earned a law degree and practiced law before making the decision to write full time. She has received several writing awards, including the RT Book Reviews Career Achievement Award. Visit her at Candace-Camp.com.

Meredith Duran is the USA TODAY bestselling author of thirteen novels. She blames Anne Boleyn for sparking her lifelong obsession with British history (and for convincing her that princely love is no prize if it doesn't come with a happily-ever-after). She enjoys collecting old etiquette manuals, guidebooks to nineteenth-century London, and travelogues by intrepid Victorian women.