You are here
Back to top
The Realm of Hungry Spirits (Large Print / Paperback)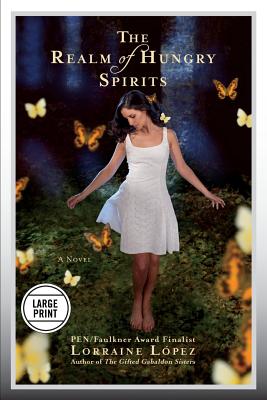 $24.99

Usually Ships in 1-5 Days
Description
---
In Buddhism, there is a place where hungry souls gather between lives awaiting rebirth so they can finally satisfy the desires that haunt them.

In the San Fernando Valley, that place is Marina Lucero's house.

The Realm of Hungry Spirits

For Marina Lucero, whose father transformed his life through meditation and whose mother gave hers to a Carmelite convent, spirituality should come easily. It doesn't. After a devastating relationship leaves her feeling lost and alone, she opens her home to a collection of wayward souls-- the abused woman next door and her alcoholic sister, her aimless nephew and his broken-hearted best friend. Her house now full but her heart still empty, Marina then turns to the wisdom of Gandhi, the Dalai Lama, even a Santeria priest who wants to cleanse her home.

As Marina struggles to balance the disappointments and delights of daily life, she'll learn that, when it comes to inner peace and those we love, a little chaos can lead to a lot of happiness.
About the Author
---
Lorraine López is a Professor of English in the Creative Writing Program at Vanderbilt University in Nashville, Tennessee. She won the 2003 Independent Publishers Book Award for Multicultural Fiction, awarded by the Jenkins Group, for Soy la Avon Lady and other Stories. The same work also won the 2003 Latino Book Award for Short Stories, awarded by the Latino Literary Hall of Fame. In 2001, López was awarded the Inaugural Miguel Marmol Prize for Fiction, selected by Sandra Cisneros and awarded by Curbstone Press, for a first book-length work of fiction of a Latino writer.