You are here
Back to top
Siren Song (Compact Disc)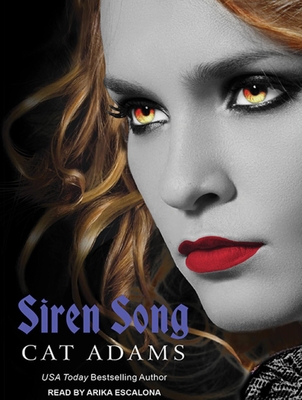 Description
---
In Celia Graves's world, vampires roam the alleys of Tinseltown, street-corner psychics have real powers, and cops use memory enhancement spells. But Celia thought she was an ordinary human, albeit one with a clairvoyant best friend and a ghostly little sister. The vampire attack that made Celia an abomination forces her to take food in liquid form and gives a whole new meaning to the word sunburn. She's slowly adjusting (therapy sessions and all) when she discovers that the attack awakened a hidden part of her heritage: Celia is part Siren, able to enthrall men-and enrage women. Her best friend's murder is unsolved, the cops think Celia should be in jail or staked, and her old lover, mage Bruno DeLuca, has something important to tell her. To top it all off, Celia's been summoned to the Sirens' island. Celia Graves has more than one enemy. Some of them want her blood. Some of them want her soul. All of them want her dead.
About the Author
---
Cat Adams is the joint pen-name of "USA Today" bestselling authors C. T. Adams and Cathy Clamp, authors of the much-lauded Blood Singer series.

As an audiobook narrator, Arika Escalona has performed a wide range of genres, from classics to contemporary thrillers, children's books, and women's literature, as well as stranger-than-fiction true stories. She has also narrated a variety of educational videos, apps, and video game characters, and she is the ongoing voice for Amazon Kindle's how-to video series.
Praise For…
---
"Adams deftly juggles the various story threads, maintaining a good balance of action, character development, mystery, and magic." ---Publishers Weekly