You are here
Back to top
Walking on Water: A Novel (The Walk Series #5) (Paperback)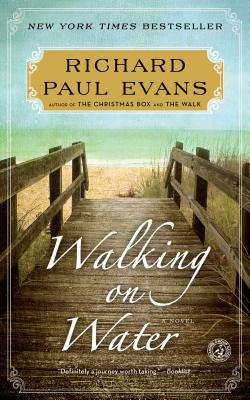 $16.99

Usually Ships in 1-5 Days
Description
---
With this New York Times bestseller, the beloved Walk series ends as Alan Christoffersen reaches his destination and the beginning of a new life: "Definitely a journey worth taking" (Booklist).

After the death of his beloved wife, after the loss of his advertising business to his once-trusted partner, after bankruptcy forced him from his home, Alan Christoffersen embarked on a daring cross-country journey—a walk across America, from Seattle to Key West, with only the pack on his back. Through it all he learned life-changing lessons about love, forgiveness, and most of all, hope.

Now Alan must again return west to face yet another crisis, one that threatens to upend his world just as he had begun to heal from so much loss, leaving him unsure of whether he can reach the end his journey. It will take the love of a new friend, and the wisdom of an old friend, to help him to finally leave the past behind and find the strength and hope to live again.

Walking on Water is a beautiful story of one man's search for a new beginning, of "humorous moments, heartwarming moments, moments of self-discovery, and moments of profound wisdom" (Deseret Morning News).
About the Author
---
Richard Paul Evans is the #1 New York Times and USA TODAY bestselling author of more than forty novels. There are currently more than thirty-five million copies of his books in print worldwide, translated into more than twenty-four languages. Richard is the recipient of numerous awards, including two first place Storytelling World Awards, the Romantic Times Best Women's Novel of the Year Award, and is a five-time recipient of the Religion Communicators Council's Wilbur Awards. Seven of Richard's books have been produced as television movies. His first feature film, The Noel Diary, starring Justin Hartley (This Is Us) and acclaimed film director, Charles Shyer (Private Benjamin, Father of the Bride), will debut in 2022. In 2011 Richard began writing Michael Vey, a #1 New York Times bestselling young adult series which has won more than a dozen awards. Richard is the founder of The Christmas Box International, an organization devoted to maintaining emergency children's shelters and providing services and resources for abused, neglected, or homeless children and young adults. To date, more than 125,000 youths have been helped by the charity. For his humanitarian work, Richard has received the Washington Times Humanitarian of the Century Award and the Volunteers of America National Empathy Award. Richard lives in Salt Lake City, Utah, with his wife, Keri, and their five children and two grandchildren. You can learn more about Richard on his website RichardPaulEvans.com.