You are here
Back to top
What I Know Now: Simple Lessons Learned the Hard Way (Paperback)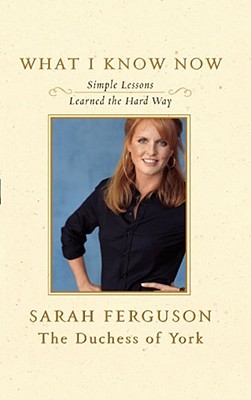 $14.95

Usually Ships in 1-5 Days
Description
---
"I do not merely rise above old wrongs; I deny them their reality. I sever my connections to darker times and circumstances. I take people with a fresh eye and an open heart, as they come to me today. Their old dossiers have expired. Our new story has yet to be written."

With the characteristic candor and down-to-earth charm that have won our admiration and our hearts, Sarah Ferguson The Duchess of York shares the hard-won lessons that have helped her work through challenges and lead a simpler, more fulfilling life.

Admired as much for her honest assessment of her foibles as for her grace in the glare of the media's spotlight, The Duchess here reveals her most private self. She shares the truths she has discovered from embracing her flaws, striving to make every life decision with integrity, and witnessing the selfless acts of others around her. She takes on challenges both small and daunting -- from putting strangers at ease in a social setting to coping with the death of her beloved best friend; from appreciating the small wonders of the natural world to protecting private time with her girls while honoring her many work commitments. Each lesson springs from a life rich with disappointments and victories, and each lesson is seasoned with a healthy dose of humility and warm wit.

Although her personal struggles have been played out on the public stage, The Duchess's thoughtful, simple approach applies to the struggles we all face. Like sharing a cup of tea with your closest confidante, What I Know Now offers advice for the everyday as it illuminates the delightful spirit, undeniable resilience, and trademark grace under fire of a woman who considers every challenge an opportunity to learn and grow.
About the Author
---
Sarah Ferguson, The Duchess of York, is the author of several children's books, including Ballerina Rosie; Tea for Ruby, illustrated by Robin Preiss Glasser; and the Little Red series as well as a memoir, Finding Sarah. The Duchess is a devoted spokesperson for many charitable organizations, including Changes for Children. She has two daughters, Princess Beatrice and Princess Eugenie.