You are here
Back to top
Master of Secret Desires (Ellora's Cave) (Paperback)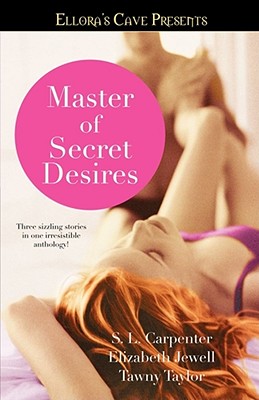 $19.99
Usually Ships in 1-5 Days
Description
---
In these three steamy stories, only one person can make their lover's fantasies become a scorching reality....

S. L. Carpenter
Broken
Lovely Kari Hawkins is just getting over her abusive ex-boyfriend when she meets Jesse Andersen one rainy night. Though he's totally gorgeous and a real gentleman, inside he's shattered by the woman he thought he loved. Yet when Kari and Jesse are drawn together by a powerful, uninhibited passion, everything seems to fall into place. Now they can put their wounded pasts behind them and explore the hungry desire that neither can -- nor wants -- to resist.

Elizabeth Jewell
6 Enchanted Princesses
Hired by the father of six beautiful identical sisters, P.I. Patrick Fitzcairn must find out where the girls escape to each night. Immediately drawn to the luscious eldest sister, Annabeth, Fitz soon learns that she and her sisters visit a Fairy world of lust and indulgence where sex is an expression of power -- and Annabeth is the prisoner of an evil seducer. But when an explosive night of passion draws them together, Annabeth learns the true meaning of desire with Fitz -- and can finally be free from the dark world that consumed her.

Tawny Taylor
Dragons and Dungeons
Outbid at an auction for a valuable ancient artifact, Kaya Cordova finds herself strangely charmed by the winning bidder. When she decides to talk to the handsome and flirtatious Jestin Draig about selling his prize, Kaya is overcome with aching desire. Following him to his palatial estate, she soon learns a dark secret about Jestin that shakes Kaya to her core. She must put aside her fears and accept him as her master if she wants him to satisfy all her desires.

Step inside Ellora's Cave, where passions run wild and the sexiest fantasies come true.... www.EllorasCave.com
About the Author
---
S. L. Carpenter, a born and raised Californian, is a writer and cover artist. Visit the author's website at www.slcarpenter.net.

Elizabeth Jewell, who has been writing paranormal and contemporary romance for many years, is married with two children. Visit her website at www.geocities.com/elizabethjewell/ejewell.html.

Tawny Taylor, a mother and wife from suburban Detroit, has written several erotic romances with heroes inspired by movie stars, her favorite television actors, and her husband. Visit her website at www.tawnytaylor.com.