You are here
Back to top
Vampire Trouble (Dead in the City) (Mass Market)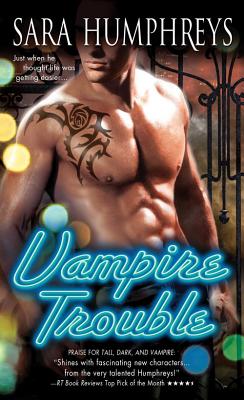 $6.99

Hard to Find - Unlikely to be Available
Description
---
Book 2 of Dead in the City
"Sara Humphreys has taken the vampire mythology and truly made it her own." —Romancing the Dark Side
A fledgling vampire ignites a war...
Maya remembers the last moments of her life as a human with haunting clarity, and every man she meets pays the price...until Shane. Finding herself in the middle of a bloody fight between vampires and werewolves, Maya has no choice but to let the devastatingly sexy vampire guard get close to her.
And that's not all that heats up...
Shane Quesada, a four-century-old vampire sentry, is known for his cold, unemotional precision, but once Maya begins to invade his dreams, his world is changed forever. His job to protect her is swiftly replaced by the all-consuming need to claim her as his own.
The Dead in the City Series:
Tall, Dark, and Vampire (Book 1, Dead in the City)
Vampire Trouble (Book 2, Dead in the City)
Vampires Never Cry Wolf (Book 3, Dead in the City, forthcoming March 2015)
Praise for Tall, Dark, and Vampire:
"Shines with fascinating new characters... from the very talented Humphreys!" —RT Book Reviews, 4½ Stars, Top Pick of the Month
"Laughter, action and a steamy love story." —Long and Short Reviews
"Riveting, outstandingly written… A must read for all vampire lovers." —Bitten by Love Reviews
"Engaging... Humphreys skillfully blends intrigue and romance." —Publishers Weekly
About the Author
---
Sara Humphreys is the award-winning author of the Amoveo Legend series. The third book in the series, Untamed, won two PRISM awards: Dark Paranormal and Best of the Best. The first two novels from her Dead in the City series have been nominated for the National Readers Choice Award. Sara was also a professional actress. Some of her television credits include A&E Biography, Guiding Light, Another World, As the World Turns and Rescue Me.
She loves writing hot heroes and heroines with moxie, but above all, Sara adores a satisfying happily-ever-after. She lives in New York with Mr. H., their four amazing sons, and two adorable pups. When she's not writing or hanging out with the men in her life, she can be found working out with Shaun T in her living room or chatting with readers on Facebook. For a full list of Sara's books and reading order, please visit www.sarahumphreys.com
Praise For…
---
"[A] powerful love story that proves that while our past is inescapable, it is the core of our strength." — The Washington Post

"Humphreys is undoubtedly a rising star in the genre... The sparks that fly between the leading couple are totally irresistible, and the tension that unfolds between the vampires and the werewolves will have readers on the edge of their seats! A July Top Pick" — RT Book Reviews

"I have to say that this series is wildly addictive, and this book is totally awesome. It's a five star book that you do not want to miss. I can't wait for more." — The Romance Reviews

" Sara's writing is smooth and fluid! Her word building and character development are first rate. She keeps the adrenaline climbing with non-stop action, plenty of passionate paranormal, mystery, romance, humor and heat right up to the hit-the-spot happy ending. If you love stories featuring HOT vamps with a dab of man-candy weres, erotica with a dash of humor, you must read VAMPIRE TROUBLE!" — Reading Between the Wines Book Club

"If you're looking for a sexy paranormal romance with a side of mystery and suspense you really should pick up Vampire Trouble and see what kinds of trouble Maya and Shane get into." — The Book Nympho

"Vampire Trouble is full of humor, action, romance, heartache, and suspense. Sara does an amazing job on keeping a reader turning pages..." — Book Lovin' Mamas

"Humorous, hot, and fast passed, this book is another must read from Sara." — Delphina Reads Too Much

"If you are a paranormal romance fan and haven't read any of Sara Humphreys books, you are totally missing out." — Pure Textuality

"VAMPIRE TROUBLE delivers a page turning read with non-stop action, romance and a fair share of twists and turns with a few sweet surprises! " — Romancing the Dark Side

" This was a yummy paranormal romance with a real action edge." — Carrie Reads A Lot

"Vampire Trouble was fun and enjoyable way to spend an afternoon. We continue to enjoy this world that Ms. Humphreys has created and the characters that she brings to life. We are eager to read the next novel in this series," — That's What I'm Talking About

"The author has created a fascinating and complex paranormal world with captivating and intriguing characters that draw the reader deeper into the stories. " — Paranormal Haven

"VAMPIRE TROUBLE is a seductive storyline where two vampires will find love and a happily ever after. Sara Humphreys writes an intelligent, inventive and spirited series where the impossible seems possible and the improbable has already began." — The Reading Cafe

"Great premise with lots of action. Sweet & funny at times. Well worth the read. I would definitely read this entire series!!" — Just Plain Sassy Reviews

"Ms. Humphreys' Dead in the City series has a little bit of everything: vampires, shifters, babies, magic, mayhem and more." — Long and Short Reviews

"Sara Humphreys presents a fantastic read. She has an exhilarating writing style. Her storytelling talent shattered the pages of my e-reader into vibrant colors and hypnotized me with blazing action. This is a wonderfully engrossing read." — Night Owl Reviews

" Sara Humphreys delivers another page turner with this fantastic sequel!" — Romancing the Dark Side

" I highly recommend this book. I highly recommend this author. I have added all of her books to my wish list. I fully intend to read the first book in this series and continue to read the books as they come out...

I have a new favorite author!!!" — Confessions of a Booklovinjunkie