You are here
Back to top
Tall, Dark, and Vampire (Dead in the City #1) (Mass Market Paperbound)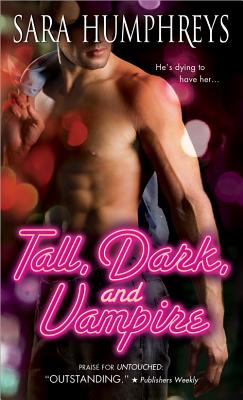 Description
---
"Shines with fascinating new characters... Readers will not want to wait for more from the very talented Humphreys "--RT Book Reviews, 4 1/2 Stars, Top Pick of the Month
Olivia thought her one true love was dead--until he shows up at her popular Greenwich Village vampire club to investigate a murder. They'd been separated for centuries, but when she sees Doug again, Olivia's heart knows she'd rather die than lose him again.
The last person Olivia expected to turn up at her club was her one true love. It would normally be great to see him, except he's been dead for centuries. Olivia really thought she had moved on with her immortal life, but as soon as she sees Doug Paxton, she knows she'd rather die than lose him again. And that's a real problem...
Doug is a no-nonsense cop by day, but his nights are tormented by dreams of a gorgeous redhead who's so much a part of him, she seems to be in his blood. When he meets Olivia face-to-face, long-buried memories begin to surface. She might be the answer to his prayers...or she might be the dead of him.
The Dead in the City Series:
Tall, Dark, and Vampire (Book 1)
Vampire Trouble (Book 2)
Vampires Never Cry Wolf (Book 3)
The Good, the Bad, and the Vampire (Book 4)
Praise for Untamed:
"Humphreys's spectacular talent is on full display. She writes scenes with such clarity that you will feel as if you are...witnessing all the action and romance firsthand. This series is getting better which each book."--RT Book Reviews, 4 1/2 stars
"The characters are well-developed, the twist and turns of the plot are well-crafted, and the situations are alternately funny, action-packed, and sensual."--Fresh Fiction
"An excellent paranormal romance with awesome world building and strong leads."--The Romance Reviews