You are here
Back to top
The Last Romanov (Paperback)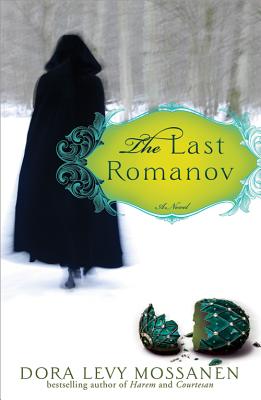 $14.99
Email or call for price
Description
---
IN A TIME OF RASPUTIN'S MAGIC AND ROMANOV MYSTERY, A YOUNG GIRL FINDS HERSELF AT THE HEART OF THE ROYAL FAMILY
She was an orphan, ushered into the royal palace on the prayers of her majestry. Yet, decades later, her time spent in the embrace of the Romanovs haunts her still. Is she responsible for those murderous events that changed everything?
If only she can find the heir, maybe she can put together the broken pieces of her own past-maybe she can hold on to the love she found. Bursting to life with the rich and glorious marvels of Imperial Russia, The Last Romanov is a magical tale of second chances and royal blood.
"A master story teller at the height of her game...weaves history and magic into a riveting page-turner."—Robin Maxwell, bestselling author of Signora da Vinci and The Seceret Diary of Anne Boleyn
"This haunting tale of prophecy and redemption sweeps up into an opulent world of glamour, myth, tragedy and unforgettable humanity."—C.W. Gortner, author of The Confessions of Catherine de Medici
About the Author
---
Born in Israel and raised in Iran, Dora Levy Mossanen fled to the United States at the onset of the Islamic Revolution. She is the recipient of the San Diego Editor's Choice award and the author of The Last Romanov, Harem and the international bestseller Courtesan, which have both been translated into numerous languages, as well as The Last Romanov. She is a regular contributor to the Huffington Post and a graduate of the USC masters of professional writing program. She lives in Beverly Hills, California.
Praise For…
---
"If you are looking for a rich and mysterious adventure, Mossanen's The Last Romanov is it." — Luxury Reading

"Dora Levy Mossanen really does have a way with words; fashioning and blending fact and fiction until you don't know where one begins and the other ends. The Last Romanov is a deep and enticing story of redemption, love and hope, and comes highly recommended." — Romance Fiction Suite 101

"A decent and interesting take on the Romanov tragedy." — Christy's Books

"I found this to be an absolutely amazing work of fiction! Five star rating and highly recommended." — A Novel Affair

"The best sum-up of this incredible story is imaginative, thrilling, interesting, fast-paced - with characters that will have you glued to every page as you relive a historical time period that will always remain the perfect blend of myth, truth and fantasy. Enjoy!" — Once Upon a Romance

"THE LAST ROMANOV should certainly be at the top of your reading list. Recommended." — Two Ends of the Pen

"I highly recommend this" — Geeky Girl Reviews

"The events in this book are exciting and fit together like puzzle pieces. The reader will be surprised by the twists and surprises in this novel. " — Live to Read

"Dora Levy Mossanen's The Last Romanov is a vividly told story, and her descriptions evoke the lushness of the Russian court" — Drey's Library

"There's a bit of magic thrown into the story, The Last Romanov had just the right amount, I thought, and added to the story rather than distracting from it." — Readin and Dreamin

"Engaging from the moment readers meet Darya, Dora Levy Mossanen writes a wonderful mystical historical as the road to redemption has plenty of detours and roadblocks; many of which are created within one's mind." — Genre Go Round Reviews

"Rarely has a book captivated me the way this one has. The Romanov story has been told several times, but I can assure you never in this fashion. This book offers a fresh perspective as well as a healthy dose of Russian history. Intrigue, romance, violence...you couldn't ask for more. " — Minding Spot

"The settings and descriptions were gorgeous" — The Pretty Good Gatsby

"This is an engrossing historical drama that blends mystery and memory together to tell a sprawling story. " — The Romance Reviews

"History mixed with mystical and paranormal elements, "The Last Romanov" is the story of a great family's fall and the aftermath all witnessed by someone who held them all so dear to her heart." — Examiner.com

"A lyrical, magical, and utterly captivating story of redemption and the triumph of the human heart. The Last Romanov brings a tumultuous era of history to rich life, and re-creates in sumptuous detail the world of the Imperial Russian court. Darya's story will hold you spellbound." — Anna Elliott, author of Georgiana Darcy's Diary

"With engaging writing and an interesting, if at times slightly strange, plot, The Last Romanov is a great read for those interested in the time period." — Devourer of Books

"Mossanen brings the tale she tells in "The Last Romanov" to a grand resolution, and it would be cruel of me to spoil the reader's pleasure by hinting at the denouement. Suffice it to say that more than one mystery is solved as a master storyteller works her powerful magic yet again." — The Jewish Journal

"The Last Romanov is not a book that can easily be read in a few hours; this is one that you will want to dedicate your attention to so that you can absorb all of the fine details and really grasp the meaning of Mossanen's words." — Literally Jen

"The Last Romanov is an ambitious work. Mossanen peppers her prose with detailed images of palatial opulence and aristocratic indulgence, and the mystical, imaginative plot is grounded in historical fact. A story of redemption, history, and aristocratic intrigue, the novel is reminiscent of Gregory Maguire's and Robin Maxwell's work. " — Booklist

"A thrilling, exotic sojourn in the opulent drawing rooms of imperial Russia as the Bolsheviks tighten their noose, recounted by a member of the doomed imperial family's inner circle. Unimaginable luxury and abasement and the magical properties of nature form the backdrop to stories of love and enduring loyalty despite a drumbeat of tragedies. The beautiful, opal-eyed Darya, veiled in butterflies, lives on hope and ambergris to reunite with her lover amid the chaos of the Soviet Union and to discover whether the heir to the Romanov throne survived." — Jenny White, author of the Kamil Pasha mystery series

"With the assured hand of a master story teller at the height of her game, Mossanen leads us deep into the intimate world of the last Romanovs. She weaves history and magic into a riveting page-turner that brings to life the enduring mystery of a gilded court teeming with unforgettable characters, who interact with history to create a vivid, engrossing tapestry that will haunt the reader long after the last page is turned." — Robin Maxwell, bestselling author of Signora da Vinci and The Secret Diary of Anne Boleyn

"Engagingly satisfying from start to finish." — Moll Anderson, Lifestyle expert and author of The Seductive Home

"If you are a fan of historical fiction, THE LAST ROMANOV should certainly be at the top of your reading list." — Two Ends of the Pen

"This would be a great book for a reading club or discussion group. The history is real, and the characters are true to life and quite imperial. This is a must have for your library.
Read more: http://www.seattlepi.com/lifestyle/blogcritics/article/Book-Review-The-Last-Romanov-by-Dora-Levy-2434195.php#ixzz1iWafeBJ1" — Seattlepi.com

"So very gorgeously written, so descriptive and rich in history, this book is unbelievably special." — abookishlibraria.blogspot.com

"I would recommend this book to the history buff or the fantasy fan. If you enjoy romance, intrigue, history and a bit of fantasy, this is the work that will take you there. With an eye to detail and a strong bit of history, you will be sucked into a story that holds you to the finish" — BlogCritics.Org

"Imperial Russia is about to burst into life before your eyes: prepare to be utterly and completely captivated." — citybookreview.com

"The events in this book are exciting and fit together like puzzle pieces. The reader will be surprised by the twists and surprises in this novel." — livetoread-krystal.blogspot.com

"Mossanen's magical tale recasts familiar material in a modern light and injects pathos into a historic tragedy. " — Publishers Weekly

"Dora Levy Mossanen's The Last Romanov is a vividly told story, and her descriptions evoke the lushness of the Russian court." — Drey's Library

" Mossanen takes readers back to the Romanov court, to a time of healing magic and political machinations that rivaled any of the great conflicts of history." — Deb's Book Bag

"Mossanen has a gift for bringing the atmosphere of an era to readers in a mystical, lyrical manner that quietly sweeps the readers away... Truly an intriguing read. 4 Stars " — RT Book Reviews

"Crackles with tension and imagination --- an engaging story splashed upon a broad canvas. Mossanen mines an emotional landscape, rich in myth and characterization, offering an innovative perspective on what may have happened to the Romanovs. Savor the magic and enjoy the journey." — Steve Berry, author of The Jefferson Key and The Columbus Affair

"The Last Romanov spins a magically laced, bejeweled look at the end of Russia's Romanov family, as seen through the preternatural eyes of the long-lived woman bound to their fate. From the sumptuous halls of the Alexander Palace to the cramped back-alleys of the Jewish ghetto, this haunting tale of prophecy and redemption sweeps us into an opulent world of glamour, myth, tragedy, and unforgettable humanity." — C.W. Gortner, author of The Confessions of Catherine de Medici

"The Last Romanov is a wonderfully well-written read for any lover of history or even just someone who believes in the impossible." — Long and Short Reviews

"Deeply rooted in an exotic time and place, ornamented with the observed detail that comes from exhaustive but discerning research, suffused with authentic historical drama, and populated with irresistible men and women who come fully alive on the page, all of which are [Mossanen's] trademarks as a novelist…a master storyteller works her powerful magic yet again." — Jonathan Kirsch, The Jewish Journal