You are here
Back to top
A Good Day for Chardonnay: A Novel (Sunshine Vicram Series #2) (CD-Audio)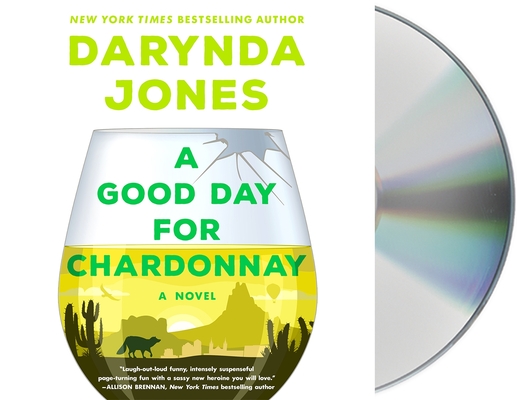 $39.99

Hard to Find - Unlikely to be Available
Description
---
From the New York Times bestselling author Darynda Jones comes the second novel in her laugh-out-loud Sunshine Vicram mystery series, A Good Day for Chardonnay.

Running a small-town police force in the mountains of New Mexico should be a smooth, carefree kind of job. Sadly, full-time Sheriff—and even fuller-time coffee guzzler—Sunshine Vicram, didn't get that memo.

All Sunshine really wants is one easy-going day. You know, the kind that starts with coffee and a donut (or three) and ends with take-out pizza and a glass of chardonnay (or seven). Turns out, that's about as easy as switching to decaf. (What kind of people do that? And who hurt them?)

Before she can say iced mocha latte, Sunny's got a bar fight gone bad, a teenage daughter hunting a serial killer and, oh yes, the still unresolved mystery of her own abduction years prior. All evidence points to a local distiller, a dangerous bad boy named Levi Ravinder, but Sun knows he's not the villain of her story. Still, perhaps beneath it all, he possesses the keys to her disappearance. At the very least, beneath it all, he possesses a serious set of abs. She's seen it. Once. Accidentally.

Between policing a town her hunky chief deputy calls four cents short of a nickel, that pesky crush she has on Levi which seems to grow exponentially every day, and an irascible raccoon that just doesn't know when to quit, Sunny's life is about to rocket to a whole new level of crazy.

Yep, definitely a good day for chardonnay.

A Macmillan Audio production from St. Martin's Press

Praise for the Sunshine Vicram series:

"Laugh-out-loud funny, intensely suspenseful, page-turning fun."--New York Times Bestselling author Allison Brennan

"A Bad Day For Sunshine is a great day for the rest of us."--New York Times bestselling author
Lee Child
About the Author
---
New York Times
and
USA Today
bestselling author
Darynda Jones
has won numerous awards for her work, including a prestigious RITA, a Golden Heart, and a Daphne du Maurier, and her books have been translated into 17 languages. As a born storyteller, Darynda grew up spinning tales of dashing damsels and heroes in distress for any unfortunate soul who happened by, certain they went away the better for it. She penned the international bestselling Charley Davidson series and is currently working on several beloved projects, most notably the Sunshine Vicram Mystery Series with St. Martin's Press and the Betwixt and Between Series of paranormal women's fiction. She lives in the Land of Enchantment, also known as New Mexico, with her husband and two beautiful sons, the Mighty, Mighty Jones Boys.
LORELEI KING has recorded over 200 audiobooks, including several titles from Janet Evanovich's bestselling Stephanie Plum series and Darynda Jones's Charley Davidson series.  Her many awards include the 2008 Audie Award for Female Solo Narration for Tallgrass by Sandra Dallas, the Radio Times performer of the Year for The Blind Assassin by Margaret Atwood, and AudioFile Earphones Awards for Eleven on Top and Twelve Sharp, both by Janet Evanovich.  AudioFile also deemed her one of the "Best Voices of 2008."

 

King's screen credits include Notting Hill, House of Mirth, and Cold Feet, among others. She has appeared as regular and recurring characters in popular British television shows such as Chef, Cold Feet, Alistair McGowan's Big Impression, Emmerdale, and the saucy Mile High. King now makes her home in London, where she lives with her husband, actor Vincent Marzello.