You are here
Back to top
This Earl of Mine: A Bow Street Bachelors Novel (Mass Market)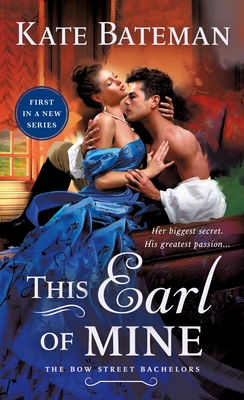 $7.99
Usually Ships in 1-5 Days
Description
---
"Bateman's scintillating first Bow Street Bachelors Regency is full of intense emotions and dramatic twists. Intelligent, affable characters make this fast-paced novel shine, especially for fans of clever women and the men who sincerely admire them. Future installments will be eagerly anticipated by Regency readers." -- Publishers Weekly (Starred Review)
Introducing the Bow Street Bachelors—men who work undercover for London's first official police force—and the women they serve to protect. . .and wed?
WILL A FALSE MARRIAGE


Shipping heiress Georgiana Caversteed is done with men who covet her purse more than her person. Even worse than the ton's lecherous fortune hunters, however, is the cruel cousin determined to force Georgie into marriage. If only she could find a way to be . . . widowed? Georgie hatches a madcap scheme to wed a condemned criminal before he's set to be executed. All she has to do is find an eligible bachelor in prison to marry her, and she'll be free. What could possibly go wrong?
LEAD TO TRUE AND LASTING LOVE?
Benedict William Henry Wylde, scapegrace second son of the late Earl of Morcott and well-known rake, is in Newgate prison undercover, working for Bow Street. Georgie doesn't realize who he is when she marries him—and she most certainly never expects to bump into her very-much-alive, and very handsome, husband of convenience at a society gathering weeks later. Soon Wylde finds himself courting his own wife, hoping to win her heart since he already has her hand. But how can this seductive rogue convince brazen, beautiful Georgie that he wants to be together…until actual death do they part?
About the Author
---
Kate Bateman, (also writing as K. C. Bateman), is the #1 bestselling author of Regency, Victorian, and Renaissance historical romances, including the Secrets & Spies series: To Steal a Heart, A Raven's Heart and A Counterfeit Heart. All her books feature her favorite feisty, intelligent heroines (badasses in bodices!), wickedly inappropriate banter, and sexy, snarky heroes you want to both strangle and kiss.
Kate wrote her first historical romance in response to a $1 bet with her husband who rashly claimed she'd 'never finish the thing.' She gleefully proved him wrong. When not traveling to exotic locations 'for research', she leads a not-so-secret double life as a fine art appraiser and on-screen antiques expert for several TV shows in the UK, each of which has up to 2.5 million viewers. She splits her time between Illinois and her native England, and writes despite three inexhaustible children and that number-loving husband who still owes her that dollar.
Praise For…
---
"Bateman's scintillating first Bow Street Bachelors Regency is full of intense emotions and dramatic twists. Intelligent, affable characters make this fast-paced novel shine, especially for fans of clever women and the men who sincerely admire them. Future installments will be eagerly anticipated by Regency readers." -- Publishers Weekly (Starred Review)
"A book that begins with a Regency heiress seeking a bridegroom in Newgate Prison promises daring adventure, and Kate Bateman gives readers just what they're looking for in This Earl of Mine. ...Pure fun." -- BookPage
"Genuine romance that shines through...delightful leads and sexy capers." -- Kirkus
"Romantic, suspenseful, heartwarming, this book was absolutely delightful, and I'm already counting down the days to the next story set in this world." -- Natasha is a Book Junkie
"Delicious, witty, and ripping good fun! Kate Bateman's writing sparkles." -- USA Today bestselling author Laura Lee Guhrke
"Dashing, daring, and deliciously romantic!" -- USA Today bestselling author Caroline Linden
"A riveting new voice for Regency readers! Kate Bateman is now on my auto-buy list." -- Janna MacGregor, author of The Good, the Bad, and the Duke