You are here
Back to top
Meat on the Side: Delicious Vegetable-Focused Recipes for Every Day (Hardcover)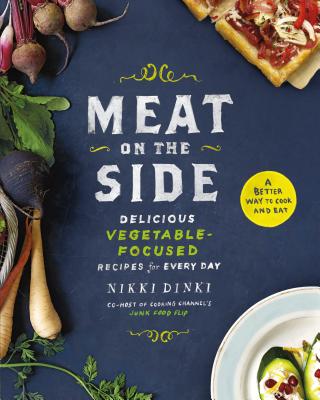 Description
---
In a recent survey, over 22 million Americans identified their eating habits as "vegetarian-inclined." They haven't given up meat, but understand that we need to rethink the way we plan meals. These millions of people are always on the hunt for new, creative ways to work more of them into their diets. Food Network star Nikki Dinki is here to fill this need. She's not a vegetarian; she's not a vegan; Nikki is simply a great chef and healthy eater who plans her meals with the meat on the side!
Inside are no fewer than 100 recipes to put meat in the passenger seat. You won't miss the beef in these Eggplant Meatballs; you'll marvel that pasta can be made from a parsnip using just a peeler; and you'll never want traditional nachos again after trying Nikki's Cabbage Nachos.
Meat on the Side is for home cooks looking to make the shift to healthier, vegetable-focused meals; couples where one person is vegetarian and the other is not; vegetarians looking for new ways to eat vegetables; and for the family that wants unique recipes that are guaranteed to get their children to eat healthier.
About the Author
---
NIKKI DINKI stole the spotlight on Food Network's Food Network Star, where she rose to the top as she showcased her exciting vegetable-focused recipes. Now she is cooking up healthy versions of classic comfort food on her new TV show Junk Food Flip, which airs on Cooking Channel. You can also follow her online at her food blog/cooking show NikkiDinkiCooking.com, where she constantly shares new Meat on the Side recipes with her devoted fans.
Praise For…
---
"For those who like flexible recipes that can be both meaty and meatless, this cookbook provides excellent choices." - Library Journal
"Nikki Dinki's Meat on the Side is truly the vanguard of what is soon to become the new normal. Nikki is showing all of us that we can still enjoy a healthy amount of protein while making conscious choices that are beneficial not only for ourselves, but for the planet as a whole. The most extraordinary thing, in my opinion, is that Nikki does this without compromising taste, technique, or the true joy of cooking. I've been lucky enough to have tasted Nikki's food and I can say with total conviction, Meat on the Side will change the way you think, cook, and eat. Mangia!" -Duff Goldman, host of Food Network's Duff Till Dawn, Kids Baking Championship, Holiday Baking Championship, and Spring Baking Championship
"Never again will you complain about eating your vegetables! Meat on the Side is fresh, exciting, and downright delicious. Nikki takes on a culinary adventure with vegetables that is at all times informative and tons of fun!" -Damaris Phillips, winner of Food Network Star
"I believe Nikki's Meat on the Side philosophy is the beginning of a social and culinary revolution that will forever change the way we eat." -Viet Pham, chef and restaurateur
"A modern-day approach to cooking and eating the way we all should. These are the kinds of foods you want to make for your family!" -Bobby Deen, co-host of The Cooking Channel's Junk Food Flip
"Nikki's Meat on the Side is clever and delicious and truly the direction we all should be heading with how we put our meal plate together and think about food. She really balances her recipes out to have a little of all and never feel deprived. Fresh, bold and oh, she makes it easy. Buen Provecho!" -Ingrid Hoffmann, Food Network chef and author of Simply Delicioso
"We are ready for a book like this. We've become a meat-centric country, and it's time for a change. Nikki's enthusiastic and radiant personality shines from these pages, and she's the perfect candidate to lead this pro-veg movement. With her comforting recipes, it's a delicious and ambitious agenda." -Justin Warner, author of The Laws Of Cooking and How To Break Them and winner of Food Network Star season 8
"In an era where the processed food industry dominates our eating habits, Dinx joins the whole-food movement at the fore front with this little gem. A body of work brimming with vitality and life, captured to inspire and awaken the conscious eater in us all." -Jason Roberts, chef at Rocket and Rabbit