You are here
Back to top
The Naked Eye: A Novel (Kendra Michaels #3) (Hardcover)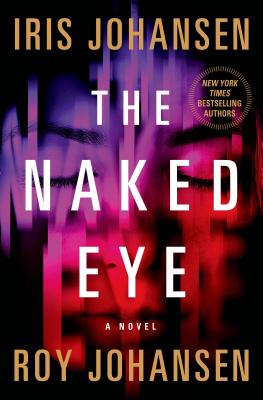 Description
---
The #1 New York Times bestselling author Iris Johansen and the Edgar Award-winning author Roy Johansen are back with a new a new novel in The Naked Eye featuring Kendra Michaels-hired gun for both the CIA and FBI.

How can you catch a killer when everyone thinks he's dead?
Kendra Michaels was instrumental in bringing serial killer Eric Colby to justice. And yet, despite his apparent execution at San Quentin, Kendra is convinced that Colby is still alive. The problem is that she can't prove it. Even her razor-sharp powers of observation-developed to an amazing capacity during the twenty years she spent blind and now in constant demand by law enforcement agencies-have gotten her nowhere.
But then a reporter who very publicly humiliated Kendra is murdered. Visiting the crime scene in search of anything that might link the brutal homicide to Colby, Kendra instead finds evidence that points to her. Finally Colby's master plan becomes clear to her: he is framing Kendra for murder.
Suspicions mount and Kendra is thrust into deadly pursuit to clear her name and catch the killer no one believes exists anymore. A killer who is always nearby, watching, waiting to make his next move, even as everyone believes him to be dead. A killer whose trail of destruction is invisible to the naked eye, despite the carnage he leaves in his wake. It will take everything Kendra has to find and stop Colby-and save her own life one more time.
About the Author
---
Iris Johansen is the New York Times bestselling author of Chasing the Night, Blood Game, Eve, and Eight Days to Live, among others. She began writing after her children left home for college, and first achieved success in the early 1980s writing category romances. In 1991, she began writing suspense historical romance novels, and in 1996 she turned to crime fiction, with which she has had great success. She lives near Atlanta, Georgia.

Roy Johansen is an Edgar Award--winning author and the son of Iris Johansen. He has written many well-received mysteries, including Deadly Visions, Beyond Belief, and The Answer Man.
Praise For…
---
"A complex cat-and-mouse game...[will] keep [readers] eagerly anticipating the next installment." —Booklist on Sight Unseen
"Filled with frightening twists and terrifying turns...the reader's heart will be racing the entire time." —RT Book Reviews (4 ½ stars) on Sight Unseen
"A thrill-a-minute, chill-a-minute thriller that keeps reader[s] on the edge of their seats." —Reader to Reader on Sight Unseen
"Edgy...[a] flashy romantic thriller." —Publishers Weekly on Sight Unseen
"Shocking...with a vibrant cast of characters to hold the reader's attention throughout." —Fresh Fiction on Sight Unseen