You are here
Back to top
"C" Is for Corpse: A Kinsey Millhone Mystery (Kinsey Millhone Alphabet Mysteries #3) (Paperback)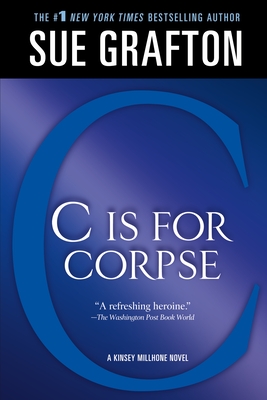 $17.99
Hard to Find - Unlikely to be Available
Description
---
You haven't read a thriller until you read #1 New York Times bestselling author Sue Grafton's novels with her unforgettable P.I. Kinsey Millhone…
C IS FOR CALCULATED
How do you go about solving an attempted murder when the victim has lost a good part of his memory? It's one of Kinsey's toughest cases yet, but she never backs down from a challenge. Twenty-three-year-old Bobby Callahan is lucky to be alive after a car forced his Porsche over a bridge and into a canyon. The crash left Bobby with a clouded memory. But he can't shake the feeling it was no random accident and that he's still in danger…
C IS FOR CRIME
The only clues Kinsey has to go on are a little red address book and the name "Blackman." Bobby can't remember who he gave the address book to for safekeeping. And any chances of Bobby regaining his memory are dashed when he's killed in another automobile accident just three days after he hires Kinsey.
C IS FOR CORPSE
As Kinsey digs deeper into her investigation, she discovers Bobby had a secret worth killing for—and unearthing that secret could send Kinsey to her own early death…
"A" Is for Alibi
"B" Is for Burglar
"C" Is for Corpse
"D" Is for Deadbeat
"E" Is for Evidence
"F" Is for Fugitive
"G" Is for Gumshoe
"H" Is for Homicide
"I" Is for Innocent
"J" Is for Judgment
"K" Is for Killer
"L" is for Lawless
"M" Is for Malice
"N" Is for Noose
"O" Is for Outlaw
"P" Is for Peril
"Q" Is for Quarry
"R" Is for Ricochet
"S" Is for Silence
"T" Is for Trespass
"U" Is for Undertow
"V" Is for Vengeance
"W" Is for Wasted
"X"
About the Author
---
#1 New York Times bestselling author Sue Grafton (1940-2017) entered the mystery field in 1982 with the publication of 'A' Is for Alibi, which introduced female hard-boiled private investigator, Kinsey Millhone, operating out of the fictional town of Santa Teresa, (aka Santa Barbara) California, and launched the bestselling Kinsey Millhone Alphabet Mysteries. In addition to her books, she published several Kinsey Millhone short stories, and with her husband, Steven Humphrey, wrote numerous movies for television, including "A Killer in the Family" (starring Robert Mitchum), "Love on the Run" (starring Alec Baldwin and Stephanie Zimbalist) and two Agatha Christie adaptations, "Sparkling Cyanide" and "Caribbean Mystery," which starred Helen Hayes. Grafton is published in 28 countries and in 26 languages.
Praise For…
---
"Third in Grafton's dashing trip through the alphabet ("A" is for Alibi, etc.) and probably her best so far."—Kirkus Reviews