You are here
Back to top
Breathless (Paperback)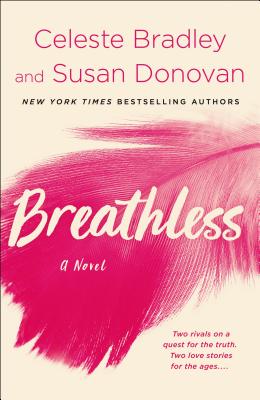 $16.99
Usually Ships in 1-5 Days
Description
---
In Breathless, bestselling authors Celeste Bradley and Susan Donovan will sweep you away—across continents and centuries, combining the best of all worlds in one unforgettable romantic saga.
She was "the Swan." London's premiere courtesan. Men want to be with her. Women loathe her success and yet admire her beauty, her riches, her independence. But when the jealous wife of her lover moves to have the Swan banished from her home on the high seas, she winds up crashed against Spain's rocky coast with no shoes, no clothes—and no name. Taken in by a tortured, sensuous man known as The Artist, the Swan comes to know the woman she wants to be—her artist's siren.
When Art Professor Brenna Anderson is in danger of losing her post at Harvard, the rule-following, prim professor is at a loss of how to salvage the shreds of her life. But when a new painting in the mysterious Siren collection is discovered in a dusty old house in France, Brenna does the unthinkable—hops on a plane to uncover the identity of the beautiful, enigmatic woman who is the subject of the paintings.
There's just one hitch—the frustrating, irritating, bold and beautiful art hunter Fitch Wilder is also looking for the Siren. He's been a thorn in Brenna's professional side for years, but when their individual quests lead them to team up despite being enemies, a whole new sumptuous world of art and culture opens up for the two of them. And with it, they enter a realm of passion and love…
About the Author
---
Celeste Bradley is the New York Times and USA Today best-selling author of more than 20 Regency romance novels and has twice been nominated for the Rita Award by the Romance Writers of America. Before becoming a writer in 1999, Celeste was an artist who specialized in pottery and ceramic sculpture. Although originally from the South, Celeste now resides in New Mexico. "It is one of the last habitats of the Free-Range Human." She is very fond of food that someone else cooks, animals of all sorts, painting, jewelry making, reading, and grandbabies.

Susan Donovan's novels are witty, sexy, and entertaining--"brain candy for smart women," as she puts it. Her books include Not That Kind of Girl, The Night She Got Lucky, and Ain't Too Proud to Beg. Susan is a former newspaper journalist with degrees from Northwestern University's Medill School of Journalism and has worked as a reporter in Chicago, Albuquerque, and Indianapolis. Her other jobs have included fine arts fundraiser, freelance journalist, painted furniture artist, horse stall mucker, proposal writer, and aide to a U.S. Senator. Susan lives in rural Maryland with her family and dogs.
Praise For…
---
"The Courtesan's Guide to Getting Your Man is a bold, daring and incredibly sexy romance. Celeste Bradley and Susan Donovan have outdone themselves!" —Christina Dodd, New York Times bestselling author
"Bradley has done it again: created a memorable Runaway Brides story that fills your heart with joy and laughter, mixed with tears. Even though fans of this series realize who the adorable Melody's father must be, it's still a pleasure to read. Let your spirit fly and savor this wondrous read!" —RT Book reviews (4 1/2 stars, Top Pick!) on SCOUNDREL IN MY DREAMS
"Bradley doesn't disappoint with the second in her Runaway Brides trilogy, which is certain to have readers laughing and crying. Her characters leap off the page, especially little three year old Melody, the precocious "heroine," and her three fathers. There's passion, adventure, non-stop action and secrets that make the pages fly by." —Romantic Times BOOKreviews (4 1/2 stars, Top Pick!) on ROGUE IN MY ARMS
"When it comes to crafting fairy tale–like, wonderfully escapist historicals, Bradley is unrivaled, and the second addition to her Runaway Brides trilogy cleverly blends madcap adventure and sexy romance." —Booklist on ROGUE IN MY ARMS
"Donovan whips up a fine frappe of romantic comedy and suspense." —Publishers Weekly on AIN'T TOO PROUD TO BEG
"A delightful new series." —RT BOOKreviews on AIN'T TOO PROUD TO BEG
"This is a terrific book and one that fans of Ms. Donovan, and new readers of first-class romantic comedies, don't want to miss." —RTR Reviews on AIN'T TOO PROUD TO BEG