You are here
Back to top
Slope of Love (Love in Bloom: The Remingtons, Book 4): Rush Remington (Paperback)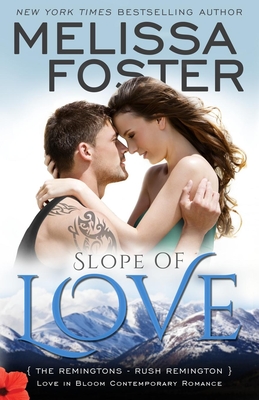 $15.99

Usually Ships in 1-5 Days
Description
---
Discover the magic of New York Times bestseller Melissa Foster's writing, and see why millions of readers have fallen in love with the Remingtons and the rest of the Love in Bloom contemporary romance collection. The Remingtons are a series of stand-alone romances that may also be enjoyed as part of the larger Love in Bloom series.
In USA Today bestseller SLOPE OF LOVE...
Olympic gold medalist skiers Jayla Stone and Rush Remington have been best friends for years. They've seen each other at their best and worst and have kept each other's secrets without fail. Only there's one secret Rush has kept close to his chest. After months of introspection, Rush realizes he's been filling his bed but not tending to his heart. He's changed his womanizing ways, and the only woman who can fill his heart has been right by his side all this time.
Years of intimate conversations and the sharing of hopes and dreams collide when Rush reveals his secret, and one toe-curling kiss changes everything between Rush and Jayla. They're no match for the passion that kiss ignites, or the pull of true love. But being Rush's best friend means knowing all about his revolving bedroom door--and Jayla has a secret of her own that could jeopardize her career and her relationship with Rush. Even their love may not be enough to overcome Rush's past or secure Jayla's future.
***
WANT MORE Remingtons?
THE REMINGTONS
Game of Love (Dex)
Stroke of Love (Sage)
Flames of Love (Siena)
Slope of Love (Rush)
Read, Write, Love (Kurt)
Touched by Love (Boyd)