You are here
Back to top
The Good Old Boys: A Hewey Calloway Novel (Mass Market)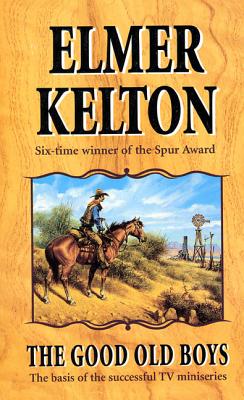 Description
---
Hewey Calloway has a problem. In his West Texas home of 1906, the land of the way of life that he loves are changing too quickly for his taste.

Hewey dreams of freedom--he wants only to be a footloose horseback cowboy, endlessly wandering the open range. But the open range of his childhood is slowly disappearing: land is being parceled out, and barbed-wire fences are spring up all over. As if that weren't enough, cars and other machines are invading Hewey's simple cowboy life, stinking up the area and threatening to replace horse travel. As Hewey struggles against the relentless stream of "progress", he comes to realize that the simple life of his childhood is gone, that a man can't live a life whose time has passed, and that every choice he makes--even those that lead to happiness--requires a sacrifice.
About the Author
---
Elmer Kelton (1926-2009) was the award-winning author of more than forty novels, including The Time It Never Rained, Other Men's Horses, Texas Standoff and Hard Trail to Follow. He grew up on a ranch near Crane, Texas, and earned a journalism degree from the University of Texas. His first novel, Hot Iron, was published in 1956. Among his awards were seven Spurs from Western Writers of America and four Western Heritage awards from the National Cowboy Hall of Fame. His novel The Good Old Boys was made into a television film starring Tommy Lee Jones. In addition to his novels, Kelton worked as an agricultural journalist for 42 years. He served in the infantry in World War II. He died in 2009.
Praise For…
---
"The Good Old Boys is probably the closest I have ever come to writing from sheer inspiration. Hewey Calloway and the other characters took hold of the story like a cold-jawed horse grabbing onto the bit, and about all I could do was hang on for the ride." —Elmer Kelton

"One of the best of a new breed of Western writers who have driven the genre into new territory." —The New York Times