You are here
Back to top
Luke Jensen, Bounty Hunter (Luke Jensen Bounty Hunter #1) (Mass Market)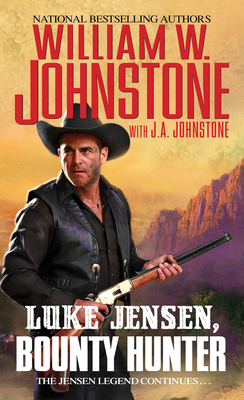 $8.99

Usually Ships in 1-5 Days
Description
---
The Greatest Western Writers of the 21st Century reveal the untold story of Smoke Jensen's long-lost brother in the first installment in their epic series featuring Luke Jensen, Bounty Hunter. Left for dead during the fiercest war in our nation's history, he's risen from the ashes of the Civil War with a vengeance to forge his own legend in a violent, lawless land.

Johnstone Country. Where Fools Rush In—And Are Carried Out.

With his epic novels of the Jensen family, William W. Johnstone has captured the pioneer spirit of America. Now he reveals the untold story of Smoke Jensen's long-lost brother Luke, thought to have been killed in the fiercest war in our nation's history.

SMOKE'S LONG-LOST BROTHER, LUKE

The last days of the Civil War. With Richmond under siege, Confederate soldier Luke Jensen is assigned the task of smuggling gold out of the city before the Yankees get their hands on it—when he is ambushed and robbed by four deserters, shot in the back, and left for dead. Taken in by a Georgia farmer and his beautiful daughter, Luke is nursed back to health. Though crippled, he hopes to reunite with his long-lost brother Smoke, but a growing romance keeps him on the farm. Then fate takes a tragic turn. Ruthless carpetbaggers arrive and—in a storm of bullets and bloodshed—Luke is forced to strike out on his own. Searching for a new life. Hunting down the baddest of the bad…to become the greatest bounty hunter who ever lived.

This is the sprawling saga of one fearless man who would stop at nothing to bring outlaws to justice—and freedom to America . . .
About the Author
---
William W. Johnstone is the #1 bestselling Western writer in America and the New York Times and USA Today bestselling author of hundreds of books, with over 50 million copies sold. Born in southern Missouri, he was raised with strong moral and family values by his minister father and tutored by his schoolteacher mother. He left school at fifteen to work in a carnival and then as a deputy sheriff before serving in the army. He went on to become known as "the Greatest Western writer of the 21st Century." Visit him online at WilliamJohnstone.net.

J.A. Johnstone learned to write from the master himself, Uncle William W. Johnstone, who began tutoring J.A. at an early age. After-school hours were often spent retyping manuscripts or researching his massive American Western History library as well as the more modern wars and conflicts. J.A. worked hard and learned, later going on to become the co-author of William W. Johnstone's many bestselling westerns and thrillers. J.A. Johnstone lives on a ranch in Tennessee and more information is at WilliamJohnstone.net.