You are here
Back to top
When Snow Falls (Whiskey Creek #2) (Mass Market Paperbound)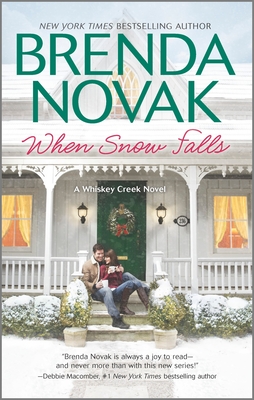 Description
---
"Full of mystery, humor, and oh-so sexy scenes. I couldn't wait to see if love would win in the end."--First for Women

After growing up in cheap motels, moving from town to town with her sister and mother, Cheyenne Christensen is grateful to be on her own. She's grateful, too, for the friends she found once her family settled in California. But she's troubled by the mystery of her earliest memories, most of which feature a smiling blonde woman. A woman who isn't her mother.

Although Cheyenne has repeatedly asked for explanations, the people who could help aren't talking. Cheyenne is set on finding answers, but without so much as a birth certificate, it won't be easy.

Things get even more complicated when her closest friend is attracted to the man Cheyenne has secretly loved for years. For Eve's sake, she decides to step aside--which lands her right in the arms of Dylan Amos, oldest and baddest of the hell-raising Amos brothers. He's the kind of guy she's sworn to avoid. She can't afford to make a mistake, not when she finally has a chance to learn who she really is and change her life for the better. But...maybe there's more to Dylan than she thought. Maybe letting him go would be a bigger mistake.

Previously published

Don't miss Brenda Novak's latest book, When I Found You

About the Author
---
New York Times and USA Today Bestselling Author Brenda Novakhas penned over 40 novels. A two-time Rita nominee, she'swon The National Reader's Choice, The Bookseller's Best, The Bookbuyer's Bestand many other awards. Sheruns an annual on-line auction for diabetes research every May at www.brendanovak.com. To date, she s raised over $1 million. Brenda considers herself lucky to be a mother of five and married to the love of her life."
Praise For…
---
"Whenever I see a new Brenda Novak book, I buy it and read it, pronto. I can always count on her for a solid, exciting story, full of adventure and romance."
-Linda Lael Miller, #1 New York Times bestselling author



"Any book by Brenda Novak is a must-buy for me."
-Reader to Reader Reviews



"Brenda Novak's seamless plotting, emotional intensity and true-to-life characters who jump off the page make her books completely satisfying. Novak is simply a great storyteller."
-Allison Brennan, New York Times bestselling author



"Novak's smooth plotting makes for a great read."
-Publishers Weekly on Dead Right



"Readers will be quickly drawn in to this well-written, multifaceted story that is an engrossing, compelling read."
-Library Journal on Taking the Heat



"Believable characters and gripping action."
-Carla Neggers, New York Times bestselling author



"I suggest Brenda Novak be added to your 'to buy' list today. You won't be disappointed."
-Romance Reader's Connection



"A novel that can't be missed...this is hands-down a must-read."
-The Romanceaholic on Inside



"In Close is intense and sensual and chock-full of emotional torment. The array of transgressions and suspects and small-town secrets makes for a riveting read."
-USA TODAY



"Strongly defined characters, sizzling sexual tension and a tautly constructed plot...blend brilliantly together in Novak's exceptionally intense, powerfully emotional novel."
-Booklist on Every Waking Moment