You are here
Back to top
Assassin's Price (The Imager Portfolio #11) (Hardcover)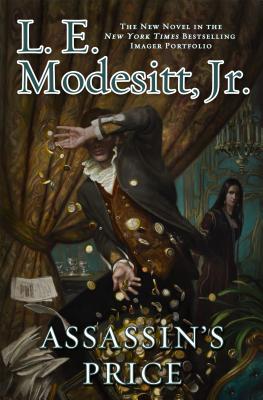 Email or call for price.
Out of Print - Not Available
Description
---
The Imager Porfolio is a bestselling and innovative epic fantasy series from New York Times bestselling author L. E. Modesitt, Jr. that RT Book Reviews says "shines with engrossing characters, terrific plotting, and realistic world-building." Continue a new story arc with Assassin's Price.

Six years have passed since the failed uprising of the High Holders, and Charyn, the rex's heir, has come of age and sets out to educate himself, against his father's wishes, on how to be an effective rex after his father.

When privateers attack the rex's ships, and threats escalate against the rex and his family, Charyn realizes that no one is safe--for an assassin stalks them all.

The future of Solidar rests in Charyn's hands. Will he rise to the challenge or will the kingdom descend into chaos?

The Imager Portfolio
#1 Imager / #2 Imager's Challenge / #3 Imager's Intrigue / #4 Scholar / #5 Princeps / #6 Imager's Battalion / #7 Antiagon Fire / #8 Rex Regis / #9 Madness in Solidar / #10 Treachery's Tools / #11 Assassin's Price/ #12 Endgames

Other series by this author:
The Saga of Recluce
The Corean Chronicles
The Spellsong Cycle
The Ghost Books
The Ecolitan Matter
About the Author
---
L. E. Modesitt, Jr., is the bestselling author of the fantasy series The Saga of Recluce, Corean Chronicles, and the Imager Portfolio. His science fiction includes Adiamante, the Ecolitan novels, the Forever Hero Trilogy, and Archform: Beauty. Besides a writer, Modesitt has been a U.S. Navy pilot, a director of research for a political campaign, legislative assistant and staff director for a U.S. Congressman, Director of Legislation and Congressional Relations for the U.S. Environmental Protection Agency, a consultant on environmental, regulatory, and communications issues, and a college lecturer. He lives in Cedar City, Utah.
Praise For…
---
Locus Bestseller List

"A master of world-building."—What's New in Book Reviews

"The series as a whole is exceptional. In fact, I am not sure whether I will nominate The Imager Portfolio or The Saga of Recluce for the Hugo's new Best Series award. Both series have moved fantasy forward."—SFRevu

"How satisfying it is to settle down with another long, solid novel by L.E. Modesitt, Jr."—SF Crowsnest

"The level of detail Modesitt brings to his world-building is, as always, both uncompromising and astonishing . . . one of the most complex depictions of the evolution of a fantasy universe ever."—Tor.com

"L.E. Modesitt, Jr. . . . His name alone makes the promise of engaging adventure, be it of the high fantasy or science fiction variety."—Mania

"With meticulously wrought characters and complex, logically developed plotting that towers above the fantasy norm." —Kirkus Reviews