You are here
Back to top
Dead Drop (Handler Thriller, A #2) (Hardcover)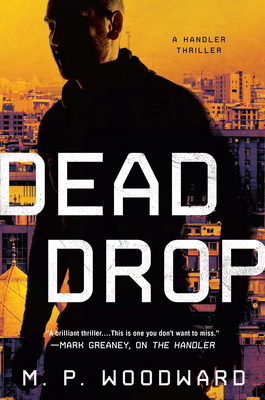 $28.00

Usually Ships in 1-5 Days
Description
---
International nuclear negotiations turns allies into enemies in this electrifying thriller from the author of The Handler.

Nuclear negotiations between the United States and Iran have reached a crisis point. The new American administration is determined to move ahead, but there are several stumbling blocks, not the least of which is Lieutenant Colonel Kasem Khalidi, the Iranian intelligence officer the CIA has hidden away in one of its safe houses.

As always, John and Meredith Dale are caught in the middle. Mossad—the Israeli intelligence agency—wants Meredith's help to find the lead Iranian rocket scientist; while John is in a desperate race to keep Kasem one step ahead of an Iranian hit squad.

They are pawns in an international chess game, and any player knows you cannot capture the king without sacrificing some pawns.
About the Author
---
MP Woodward is a veteran of both US intelligence ops and the entertainment industry. As a naval intelligence officer with the US Pacific Command, he scripted scenario moves and countermoves for US war game exercises in the Middle East. In multiple deployments to the Persian Gulf and Far East, he worked alongside US Special Forces, CIA, and NSA. Most recently, Woodward led international distribution for Amazon Prime Video and launched Amazon original content in more than forty countries. To learn more, please visit www.mpwoodward.com.
Praise For…
---
Praise for Dead Drop

"Authentic and intelligent—a terrifying glimpse into the threats brewing in the shadows." —Kyle Mills, New York Times bestselling author of Vince Flynn's Mitch Rapp series, on Dead Drop

"A new thriller author to binge… people have got to read Dead Drop. It's an addictive book." —Hugh Hewitt, host of The Hugh Hewitt Show

"Woodward is a veteran of US Intelligence, and it's obvious because of the knowledgeable and believable scenarios he writes for his characters. I haven't seen the same confidence, skill, and ability in spy novels since Robert Ludlum." —The Big Thrill


Praise for The Handler

"A brilliant thriller....This is one you don't want to miss."—Mark Greaney, #1 New York Times bestselling author of the Gray Man series, on The Handler

"The Handler is the finest kind of story—a tale that knocks the breath from your lungs and leaves you screaming for more. Simply the best debut I've read in years."—Don Bentley, author of Without Sanction and Tom Clancy Zero Hour

"In this immersive, action-packed thriller. . . . Woodward does everything right: he creates complicated and compelling characters—the beating heart of all great spy novels—and puts them in a gripping and authentic narrative that will have you hooked right to the last page."—Carlton Cuse, cocreator of Tom Clancy's Jack Ryan and writer/showrunner of Lost, on The Handler

"A spectacular tale, brimming with intrigue, suspense, and richly drawn characters. Fantastic storytelling."—Marc Cameron, New York Times bestselling author of Tom Clancy Red Winter and the Arliss Cutter series, on The Handler

"It is a true privilege to read a new literary superstar's debut effort.  With The Handler, M. P. Woodward joins John Le Carre, Ken Follett, Len Deighton, and Daniel Silva in the front rank of spy-thriller superstars. Unmatched authenticity, great characters, a dazzling plot. . . . I was mesmerized.  Trust me—you will be too."—Stephen Coonts, author of Flight of the Intruder and Liberty's Last Stand