You are here
Back to top
A Tempest at Sea (The Lady Sherlock Series #7) (Paperback)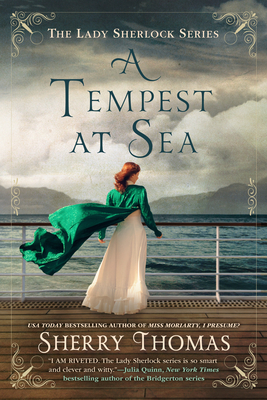 $17.00

Usually Ships in 1-5 Days
Description
---
Charlotte Holmes's life is in peril when her brilliant deductive skills are put to the test in her most dangerous investigation yet, locked aboard a ship at sea.

After feigning her own death in Cornwall to escape from Moriarty's perilous attention, Charlotte Holmes goes into hiding. But then she receives a tempting offer: Find a dossier the crown is desperately seeking, and she might be able to go back to a normal life.
 
Her search leads her aboard the RMS Provence. But on the night Charlotte makes her move to retrieve the dossier, in the midst of a terrifying storm in the Bay of Biscay, a brutal murder takes place on the ship.
 
Instead of solving the crime, as she is accustomed to doing, Charlotte must take care not to be embroiled in this investigation, lest it become known to those who harbor ill intentions that Sherlock Holmes is abroad and still very much alive.
About the Author
---
USA Today bestselling author Sherry Thomas is one of the most acclaimed historical romance authors writing today and a two-time RITA Award winner.
Praise For…
---
Praise for The Lady Sherlock Series

"I AM RIVETED. The Lady Sherlock series is so smart and clever and witty."--Julia Quinn, New York Times bestselling author of the Bridgerton series

"Tense and atmospherically rich, particularly in the Cornwall chapters, the novel is interspersed with brief scenes of Charlotte and Ingram's new intimacy, including some chuckle-inducing letters. … An enjoyable jigsaw puzzle in the Holmes tradition, with gothic thrills and a dash of romance."―Kirkus Reviews (starred review)

"Readers will revel in seeing Charlotte and her dearest companions at the top of their game in this eventful and pivotal entry in the formidable series."--BookPage

"Miss Moriarty, I Presume? is a complex story, full of twists and unexpected turns. Settle in for a delightful read, full of red herrings and memorable set pieces and above all, let the talented Sherry Thomas dazzle you as she performs literary sleights of hand at every turn. Brava!"--Criminal Element

"With an increasingly beloved detective crew, this Victorian mystery offers thrills and sharp insights into human behavior." — Kirkus Reviews (starred review) on Murder on Cold Street

"Thomas's skillful writing delivers many…deft observations, creating a satisfying story that entertains us while also revealing a world in which a remarkable woman must hide her talents behind a man's name." ―Historical Novels Review on Murder on Cold Street

"A wonderfully feminist historical mystery…Sherry Thomas has made an incredible addition to the Sherlockian canon in Charlotte, with her intense brain, flamboyant attire, unconquerable sweet tooth and uncanny ability to circumvent strict Victorian mores to suit her purpose. … Readers of Sherlockian fiction will love the Lady Sherlock series, as will anyone who enjoys a historical mystery with a bit of romantic tension."―Shelf Awareness on Murder on Cold Street

"Bestselling author Sherry Thomas returns with the fifth installment in her captivating, Victorian-era Lady Sherlock series. … Perfect for fans of Holmes whodunits!"―Woman's World, on Murder on Cold Street

"Sherry Thomas' fifth outing in the Lady Sherlock series is as fascinating and feminist as ever."—Austin Chronicle on Murder on Cold Street

"Thomas… masterfully handles all the ins and outs of the mystery while layering the story with suspense and intrigue to keep readers guessing."— BookPage on Murder on Cold Street

"Fans of traditional mysteries and Sherlockian pastiche rejoice at the site of a new Sherry Thomas, as do historical fiction aficionados, but really we all should be enjoying Thomas' charming and romantic tales of Victorian intrigue." —CrimeReads on Murder on Cold Street

"These books, which recast Sherlock Holmes as Charlotte Holmes, are perfect for those who adore layered stories. Unignorable questions of gender, expectation and privilege lurk beneath complex mysteries and a slowly scorching romance."--The Washington Post, on The Art of Theft

"Fast-paced storytelling and witty prose add further appeal for those who like their historical mysteries playful."--Publishers Weekly, on The Art of Theft

"Thoughtful yet brief remarks critique patriarchy, heteronormativity, and colonialism, fitting organically into an absorbing whodunwhat arc. An exciting addition to the mystery series; Holmes meets Ocean's 11 meets A Vindication of the Rights of Woman."--Kirkus Reviews (starred review), on The Art of Theft

"The resolution, as well as the spell cast by Thomas' language and clever use of disguise to reveal a devastating understanding of human flaws and desires, leaves one with a good book hangover. A novel in which you cannot wait to find out what happens next--even as you do not want it to end."--Kirkus Reviews (starred review), on The Hollow of Fear

"The mystery at the novel's heart is compelling...but it's once again the author's incisive and compassionate glimpses at how women survive the strictures of misogyny that place the book a cut above the rest."--The Austin Chronicle on The Hollow of Fear

"This spell-binding tale is the third in the Lady Sherlock Historical Mysteries and is even better (if possible) than the last. For those who have yet to experience this new "take" on the beloved Sherlock Holmes and the Victorian realm that never disappoints, this is a series you must start reading right now!"--Suspense Magazine on The Hollow of Fear