You are here
Back to top
The Demonists (A Demonists Novel #1) (Paperback)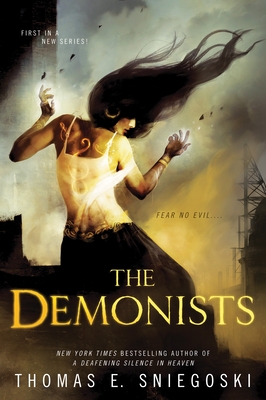 $15.00
Email or call for price
Description
---
From the New York Times bestselling author of the Fallen series and the Remy Chandler series, a new dark fantasy series filled with demons, exorcisms, and the fight against the worst that hell has to offer...
 
There is more to our world than meets the eye—darker things, crueler things. Exorcist John Fogg and his wife, psychic medium Theodora Knight, know what lurks in the shadows. But even they're not prepared for the worst Hell has to offer...
 
It was supposed to be a simple exorcism, a publicity stunt to firmly establish John and Theodora's thriving paranormal investigation empire in the public eye. But something went wrong, leading to an on-air massacre that unleashed a malicious host of demons and left Theodora catatonic, possessed by countless spirits.
 
John sets out on a desperate quest to find a cure for his wife, but his obsession brings him face-to-face with an even more terrifying problem: Theodora's possession is only one piece of a deadly plot that is threatening the entire world. Because an ancient evil is about to make Earth its battlefield—and without John and Theodora's intervention, there is no chance for salvation...
About the Author
---
Thomas E. Sniegoski is a full-time writer of young adult novels, urban fantasy, and comics. His works include the New York Times bestselling Fallen series, the Remy Chandler novels, the graphic novel The Raven's Child, as well as contributions to famous comics such as Batman, Buffy the Vampire Slayer, and B.P.R.D.
Praise For…
---
Praise for Thomas E. Sniegoski and His Works
 
"Funny, unsettling, and heartbreaking."—Christopher Golden, New York Times bestselling author of Tin Men
 
"Tightly focused and deftly handled...A smart and playful story."—Publishers Weekly
 
"Engaging [and] tightly written...You won't find a dull moment."—Sacramento Book Review
 
"At turns frightening, tender, heartrending, and full of twists and turns."—News and Sentinel (Parkersburg, WV)
 
"Fast-moving, well-written and wonderfully enchanting."—Darque Reviews