You are here
Back to top
Unseen: Outcast Season: Book Three (Mass Market)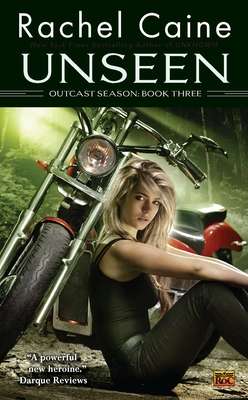 Description
---
View our feature on Rachel Caine's Unseen.After Cassiel and Warden Luis Rocha rescue an adept child from a maniacal Djinn, they realize two things: the girl is already manifesting an incredible amount of power, and her kidnapping was not an isolated incident.

This Djinn-aided by her devoted followers-is capturing children all over the world, and indoctrinating them so she can use their strength for herself. With no other options, Cassiel infiltrates the Djinn's organization-because if Cassiel cannot stop the Djinn's apocalyptic designs, all of humanity may be destroyed.
About the Author
---
Rachel Caine is the author of more than twenty novels, including the "Weather Warden" series. She was born at White Sands Missile Range, which people who know her say explains a lot. She has been an accountant, a professional musician, and an insurance investigator, and still carries on a secret identity in the corporate world. She and her husband, fantasy artist R. Cat Conrad, live in Texas with their iguanas, Popeye and Darwin; a mali uromastyx named (appropriately) O'Malley; and a leopard tortoise named Shelley (for the poet, of course).