You are here
Back to top
Under the Same Sky (The MacDonnell Series) (Paperback)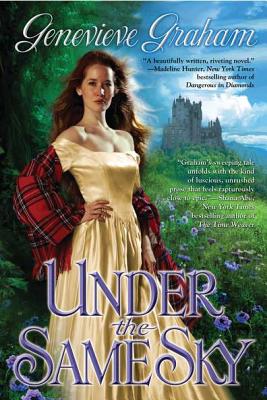 Description
---
A breathtaking romance set in the Scottish Highlands from exciting debut author Genevieve Graham
The year is 1746. A young woman from South Carolina and a Scottish Highlander share an intimacy and devotion beyond their understanding. They have known each other their entire lives. And yet they have never met...
Maggie Johnson has been gifted with "the Sight" ever since she was a child. Her dreams bring her visions of the future and of a presence she knows is real. She calls him Wolf, and has seen him grow alongside her from a careless young boy into a fearsome warrior. And when her life is torn asunder by unspeakable tragedy, he is her only hope.
Andrew MacDonnell is entranced by the vision of a beautiful woman who has always dwelt in his dreams. When war ravages his land and all he has ever known, he leaves the Scottish Highlands on a perilous journey to the New World to find her...
Their quest to find each other across a treacherous wilderness will test the limits of courage and endurance, guided only by their dreams- and by the belief in the true love they share...
About the Author
---
Genevieve Graham graduated from the University of Toronto in 1986 with a bachelor of music in performance. While on a ski vacation in Alberta, she met her future husband in a chairlift line and subsequently moved to Calgary to be with him. They have recently settled in a small, peaceful town in Nova Scotia with their two beautiful daughters. Writing became an essential part of Genevieve's life a few years ago, when she began to write her debut novel, Under the Same Sky.
Praise For…
---
"A beautifully written, riveting novel."—Madeline Hunter, New York Times bestselling author 
"Under the Same Sky weaves together the lives of its two protagonists with such skill and poetry it's like entering a dream, one that will leave you both marveling and richly sated."—Shana Abé, New York Times bestselling author of The Time Weaver
 "A uniquely crafted love story…Readers will wait with bated breath for the sequel."—Romantic Times Book Reviews
"This book poses a huge dilemma for a reader. It's one you can't put down. It's that good."—The Good, The Bad, and The Unread
"Absolutely rapturous, full of lush imagery and a quietly confident voice that had me hooked immediately…Genevieve Graham is one to watch for historical romance readers."—Historical Novel Review