You are here
Back to top
Violet on the Runway (Paperback)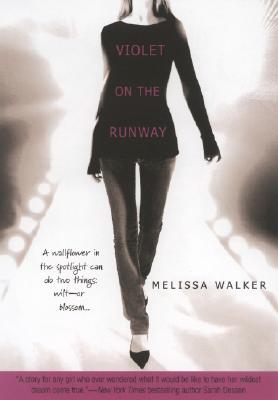 Description
---
A wallflower in the spotlight can do one of two things: wilt, or blossom...

Violet Greenfield's life changes forever when a lady in giant Chanel shades tells her she could be IT, the next Kate Moss-but taller, and without the PR problems. That's how Violet winds up with a business card in the front pocket of her jeans on her first day as a senior in high school. Angela Blythe from Tryst Models in New York City wants to put Violet on a plane and whisk her into the world of high-heeled boots and oversized sunglasses. Tall, skinny Violet, who's been P-L-A-I-N practically forever.

And guess what? She's going.

Look out for Violet by Design, coming in March 2008 from Berkley Jam.
About the Author
---
Melissa Walker is a writer who has worked as "ELLEgirl's" features editor and "Seventeen Prom's" editor. All in the name of journalism, she once spent twenty-four hours surrounded by male models and even attended an elite finishing school for girls in New Zealand--among other hardships.

She recently fulfilled a lifelong dream when she appeared as a talking-head "expert" on VH1's "The Fabulous Life of: Celebrity Kids."

Melissa lives in Brooklyn, New York, and has a BA in English from Vassar College. She would tell you her SAT scores, too, but, you know, the math part was hard.
Praise For…
---
"A story for any girl who ever wondered what it would be like to have her wildest dream come true." —New York Times bestselling author Sarah Dessen

"On the runway or off, Violet shines." —Ally Carter, bestselling author of I'd Tell You I Love You, But Then I'd Have to Kill You

"Violet is wonderfully witty and sweetly sensitive. She's not your typical top model: she's more like your best friend—only prettier." —Kirsten Kemp, author of Breakfast at Bloomingdale's