You are here
Back to top
A King's Ransom (Hardcover)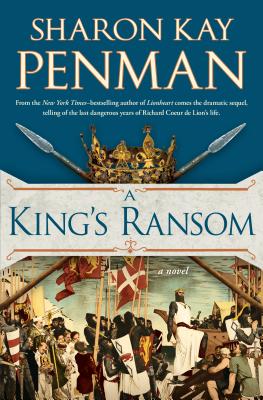 Description
---
From the New York Times-bestselling author of Lionheart comes the dramatic sequel, telling of the last dangerous years of Richard, Couer de Lion's life.
This long-anticipated sequel to the national bestseller Lionheart is a vivid and heart-wrenching story of the last event-filled years in the life of Richard, Coeur de Lion. Taken captive by the Holy Roman Emperor while en route home in violation of the papal decree protecting all crusaders he was to spend fifteen months imprisoned, much of it in the notorious fortress at Trefils, from which few men ever left alive, while Eleanor of Aquitaine moved heaven and earth to raise the exorbitant ransom.
For the five years remaining to him, betrayals, intrigues, wars, and illness were ever present. So were his infidelities, perhaps a pattern set by his father's faithlessness to Eleanor. But the courage, compassion, and intelligence of this warrior king became the stuff of legend, and A King's Ransom brings the man and his world fully and powerfully alive.
About the Author
---
Sharon Kay Penman is the author of eight previous historical novels and four mysteries. Among writers who admire her work are Margaret George, Steve Berry, George R. R. Martin, and Bernard Cornwell. Her readers are passionately committed. A lawyer by training, by her mid-thirties she was a full-time novelist. She lives in Mays Landing, New Jersey.
Praise For…
---
Praise for A King's Ransom
 
"A King's Ransom [is] historical fiction of the first order, a narrative synthesis of the royal marriages and petty rivalries, the personal slights and gestures of loyalty, the grand deeds and simple twists of fate that shape events . . . Instead of history that reads like a novel, Penman achieves something greater: a novel that reads like history."—Willamette Week
 
"Penman's long-awaited sequel to her book Lionheart covers the last seven years of Richard's life. There's betrayal, war, illness and intrigue….She includes everyday details that get you right into the story . . . once you start reading you won't want to stop."—British Weekly

"A panoramic retelling of the tumultuous last years of Richard the Lionheart's life . . . Penman has absorbed herself so fully into the heart and mind of her protagonist that an undeniably flawed but refreshingly human Richard virtually walks off the pages. This atmospheric fictional biography showcases the author's mastery of all things medieval while providing some refreshingly new twists on the life and times of a hallowed hero."—Booklist
 
"Detailed down to the last flagon of wine, Penman's work will please serious fans of historical fiction. . . Characters rise from the pages—Richard, brave warrior, skilled diplomat; Heinrich, "If he were cut, he'd bleed ice"; the mercenary Mercadier; and multitudes more. Seven years of sieges and battles, confrontations in castles and on horseback are lovingly detailed. . . Penman's latest is a massively entertaining work of historical fiction for dedicated fans." —Kirkus Reviews

Praise for Sharon Kay Penman

"Sharon Kay Penman transcends beloved-author status: among lovers of historical fiction, she is cherished." —BookPage

"Always happy to read a new Sharon Kay Penman novel: Lionheart, set during the Crusades, brings both Richard and Saladin to vivid life."—Nancy Pearl
 
"The great Crusader-King Richard the Lionheart comes alive in all his complex splendor in this masterpiece of a medieval tapestry."—Margaret George

"Penman has written a tour de force that has me ready for the sequel right this minute. Highly recommended."—Historical Novels Review
 
"Penman displays her usual grasp of sweeping historical events, as well as an uncanny ability to get inside the hearts and minds of her real-life characters. Her reputation for character-driven, solidly detailed historicals is richly deserved. High Demand Backstory: The popularity of her superbly rendered Angevin trilogy guarantees a ready-made audience for this fictional biography of the always intriguing Richard the Lionheart."—Booklist
 
"[A] gritty, unsentimental, and richly detailed epic. . . . Readers will eagerly await the next installment, which will focus on Richard's capture and ransom."—Publisher's Weekly