You are here
Back to top
Blind Justice (Hardcover)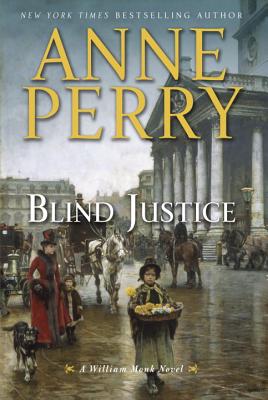 Description
---
NATIONAL BESTSELLER
For a generation, Anne Perry's "New York Times" bestselling novels have invited readers to explore the brilliantly seductive heart of Victorian London, where great wealth and great evil live side by side, and great men sometimes make unfortunate choices.
In Perry's stunning new novel, Hester Monk, the wife of William Monk, commander of the Thames River Police, questions the finances of a London church whose members' hard-earned charitable gifts appear to have ended up in the pocket of charismatic preacher Abel Taft, paying for his fine home and the stylish outfits of his wife and daughters.
Taft is accused of extortion, and brilliant barrister Oliver Rathbone, newly appointed a judge, is chosen to preside over his trial. It seems clear that Taft is indeed guilty. However, at the last second, the defense produces a witness who completely undermines the charges. Then Rathbone makes a well-meaning but reckless move that could ruin his career, his reputation, and his life.
"Blind Justice" presents a rich and lively panorama of London life, from the teeming Thames docks to the wealthy West End, while unfolding a magnificent courtroom drama. And while justice, law, and morality hang in the balance, Hester and Monk race to save their distinguished friend Rathbone from disgrace. The incomparable art of Anne Perry grips us fast until the final, unforgettable scene.
Praise for "Blind Justice"
"A staggering achievement . . . Perry's command of plot and prose shines."--"Bookreporter"
" "
"Ranks among the best Anne] Perry has written. Her courtroom scenes have the realism of Scott Turow."--"Huntington News"
" "
"Gripping . . . Those who love Victorian England will relish Ms. Perry's presentation of period details. Her mastery of this time and place gives credence to the characters' moral and legal struggles."--"New York Journal of Books"
Praise for Anne Perry and her Wiliam Monk novels
"A Sunless Sea"
"Anne Perry's Victorian mysteries are marvels."--"The New York Times Book Review"
"Acceptable Loss"
"Masterful storytelling and moving dialogue."--"The Star-Ledger"
" "
"Execution Dock"
" An] engrossing page-turner . . . There's no one better at using words to paint a scene and then fill it with sounds and smells than Anne Perry."--"The Boston Globe"
"Dark Assassin"
"Brilliant . . . a page-turning thriller . . . blending compelling plotting with superbly realized human emotion and exquisite period detail."--Jeffery Deaver, author of "Edge"
"The Shifting Tide"
"The mysterious and dangerous waterfront world of London's 'longest street, ' the Thames, comes to life."--South Florida" Sun-Sentinel.
About the Author
---
Anne Perry is the bestselling author of two acclaimed series set in Victorian England: the William Monk novels, including "A Sunless Sea" and "Acceptable Loss, " and the Charlotte and Thomas Pitt novels, including "Midnight at Marble Arch "and "Dorchester Terrace." She is also the author of a series of five World War I novels, as well as eleven holiday novels, including the upcoming "A Christmas Candle, " and a historical novel, "The Sheen on the Silk, " set in the Ottoman Empire. Anne Perry lives in Scotland.
Praise For…
---
Praise for Blind Justice
 
"A staggering achievement . . . Perry's command of plot and prose shines."—Bookreporter
 
"Ranks among the best [Anne] Perry has written. Her courtroom scenes have the realism of Scott Turow."—Huntington News
 
"Gripping . . . Those who love Victorian England will relish Ms. Perry's presentation of period details. Her mastery of this time and place gives credence to the characters' moral and legal struggles."—New York Journal of Books
 
Praise for Anne Perry and her Wiliam Monk novels
 
A Sunless Sea
 
"Anne Perry's Victorian mysteries are marvels."—The New York Times Book Review
 
Acceptable Loss
 
"Masterful storytelling and moving dialogue."—The Star-Ledger
 
Execution Dock
 
"[An] engrossing page-turner . . . There's no one better at using words to paint a scene and then fill it with sounds and smells than Anne Perry."—The Boston Globe
 
Dark Assassin
 
"Brilliant . . . a page-turning thriller . . . blending compelling plotting with superbly realized human emotion and exquisite period detail."—Jeffery Deaver, author of Edge
 
The Shifting Tide
 
"The mysterious and dangerous waterfront world of London's 'longest street,' the Thames, comes to life."—South Florida Sun-Sentinel