You are here
Back to top
Didn't Nobody Give a Shit What Happened to Carlotta (Hardcover)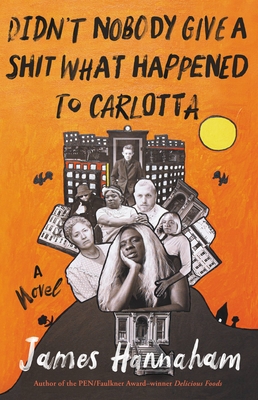 $28.00

Usually Ships in 1-5 Days
September 2022 Indie Next List
---
"Carlotta, a trans woman, is released home to Brooklyn after 22 years in a male prison. As she adjusts to life outside, she faces one injustice after another. Through so many inequities, Carlotta maintains her optimism, humor, and hope."
— Mary Kay Burnett, Buttonwood Books and Toys, Cohasset, MA
Description
---
Winner of the Hurston/Wright Legacy Award

In this "dangerously hilarious" novel (Los Angeles Times), a trans woman reenters life on the outside after more than twenty years in a men's prison, over one consequential Fourth of July weekend—from the author of the PEN/Faulkner Award winner Delicious Foods.

Carlotta Mercedes has been misunderstood her entire life. When she was pulled into a robbery gone wrong, she still went by the name she'd grown up with in Fort Greene, Brooklyn—before it gentrified. But not long after her conviction, she took the name Carlotta and began to live as a woman, an embrace of selfhood that prison authorities rejected, keeping Carlotta trapped in an all-male cell block, abused by both inmates and guards, and often placed in solitary.

In her fifth appearance before the parole board, Carlotta is at last granted conditional freedom and returns to a much-changed New York City. Over a whirlwind Fourth of July weekend, she struggles to reconcile with the son she left behind, to reunite with a family reluctant to accept her true identity, and to avoid any minor parole infraction that might get her consigned back to lockup.

Written with the same astonishing verve of Delicious Foods, which dazzled critics and readers alike, Didn't Nobody Give a Shit What Happened to Carlotta sweeps the reader through seemingly every street of Brooklyn, much as Joyce's Ulysses does through Dublin. The novel sings with brio and ambition, delivering a fantastically entertaining read and a cast of unforgettable characters even as it challenges us to confront the glaring injustices of a prison system that continues to punish people long after their time has been served.
About the Author
---
James Hannaham is the author of the novels God Says No, a Stonewall Book Award finalist, and Delicious Foods, which won the PEN/Faulkner Award and the Hurston/Wright Legacy Award and was a Los Angeles Times Book Prize and Dayton Literary Peace Prize finalist as well as a New York Times Notable Book. He lives in Brooklyn, where he teaches at the Pratt Institute.
Praise For…
---
"Razor-sharp . . . A hilarious, righteous transgender remix of
The Odyssey
. . . Carlotta's bold voice hooks readers from the beginning, making them willing ride-or-dies . . . Hannaham hasn't merely given the classics an update; he has given readers an unforgettable glimpse into the injustices the carceral system heaps on women like Carlotta—and deftly made space in literature for a distinctive voice that deserves a place in the modern literary pantheon."—
Los Angeles Times
"Captivating . . . Hannaham's bumper-car narrative astonishes . . . Carlotta is irrepressible. No matter how much the prison system has abused her, regardless of the coldblooded stipulations of her parole, she is brave enough to be guided by the woman inside her tireless heart . . . At a time when families with trans and gay children feel persecuted by state governments, Hannaham makes Carlotta heroic. Don't let the title of this wondrous novel fool you. Hannaham cares deeply about Carlotta. From a mash-up of perspectives, he writes like a guardian angel."—
John Irving, New York Times Book Review
"Hannaham's buoyant sophomore novel introduces us to the unforgettable Carlotta Mercedes, an Afro-Latinx trans woman released from a men's prison after serving two decades… Over the course of one zany Fourth of July weekend, Carlotta descends into Brooklyn's roiling underbelly on a quest to stand in her truth. Angry, saucy, and joyful, Carlotta is a true survivor—one whose story shines a disinfecting light on the injustices of our world."—
Adrienne Westenfeld, Esquire
"Searing and often hilarious."—
New York Magazine
"[Carlotta] the bold, brash, and bitingly hilarious protagonist, seeks to come to terms with the Fort Greene, Brooklyn that she left behind. Hannaham's novel has drawn comparisons to Ulysses with its style, specificity, and snapshot framing."—
Laura Zornosa, Time
"Hilarious and heartbreaking, with language that reaches for your throat . . . With an unforgettable voice, Hannaham takes on gentrification, the prison and parole system, and more."—
Xochitl Gonzalez, The Atlantic
"An exuberant odyssey… Carlotta's passion for life is unstoppable. Her story beats on, the narrative third person regularly bursting open into a surging stream of consciousness."—
The Guardian
"Hannaham's virtues as a novelist are many. He is not only masterful at voice, but at creating compelling characters and enthralling swiftly paced plots. Despite tackling heavy topics, there's humor and playfulness in his prose. But 
Didn't Nobody Give a Shit What Happened to Carlotta 
is more than a page-turner, it says something we all need to hear."—
Rachel León, Southern Review of Books
"As a creative dynamo, Hannaham is the real deal . . .
Didn't Nobody Give a Shit What Happened to Carlotta
is his most tender and tenacious novel yet, with the ear, soul, mouth, and swagger of a real New Yorker."—
Interview Magazine
"We were big fans of James Hannaham's previous novel
Delicious Foods
… The long wait for his follow-up is finally over and it's a doozy: a raucous social comedy that takes on our carceral system, the poor treatment of trans people, and capitalist failings in one unmissable package."—
Chicago Review of Books
"Timely, gripping, and compellingly written… this book had me from the first page… Hannaham introduces us to the distinct narrative voice of Carlotta, who's willing to cut through all the noise to tell her truth in her own distinctly hilarious way… This is a book that deserves to be read by anyone who's interested in how public policy affects the everyday lives of marginalized communities in America."—
David Vogel, Buzzfeed
"A bon vivant of a book that makes you feel like you're at a party from the minute you open the front pages... It's manic and colorful and riotous and filled with energy...I love James Hannaham's writing"—
Neda Ulaby, NPR
"Lovingly linguistic and equal parts Zora Neale Hurston, Chester Himes, and the now mythical Stagg R. Leigh, this refreshingly cool look at the new New York through old eyes is the Blackest book I've read in years. Carlotta is more than one to remember, she's a treasure."—
Paul Beatty, Booker Prize–winning author of The Sellout
"A roller-coaster ride of a story... I love 
Didn't Nobody Give A Shit What Happened to Carlotta
 so much I must include it... The author writes these characters with so much love and compassion. It made me think of James McBride a bit, particularly
Deacon King Kong
."—
Ben Yakas, Gothamist
"A remarkable novel…the hilarity, the sharpness, and the wild lyricism of Hannaham's Delicious Foods resurface in Carlotta, along with an interest in racism, community, family, love, the possibilities of language, and the preciousness of the freedom to be who you are"
—
Francine Prose, The New York Review of Books
"Hannaham's latest novel is at once irreverently funny and devastatingly sad, a quixotic tale about the queerness of missed time; how, for the most marginalized, the shackles of the past and uncertain promises of the future make dwelling in the present seem impossible." —
Michelle Hart, Electric Lit
"Like the transformed city she navigates to great comic effect, Carlotta is irrepressible. She endures. James Hannaham won multiple accolades for his previous outing,
Delicious Foods
; with Carlotta, it's a good bet more are on the way."—
Cat Auer, AV Club
"Maybe the comic novel is the best way to explore some of the least funny aspects of our society. Maybe the justice system is so immoral, the forces of capitalism so relentless, the treatment of some of our citizens so indefensible, that we have no choice but to turn heartbreak into hilarity, to laugh. 
Carlotta
 is a beautiful, unsettling book. The title is a trick; James Hannaham gives a shit, and so should everyone else."—
Rumaan Alam, New York Times bestselling author of Leave the World Behind
"Borne along by a riotous current of verbal ingenuity, James Hannaham's new novel is—like its endlessly vibrant protagonist—a marvel of invention. There wasn't a page that didn't surprise me. By its end, this book had conjured a depth of identification with its heroine that I was not prepared for. Utterly brilliant."—
Ayad Akhtar, Pulitzer Prize–winning author of Homeland Elegies
"Carlotta is a vision to behold as she attempts reentry into a now-unfamiliar world. In Hannaham's hands, this theme shimmers with humor, pathos, and that kind of queer energy that readers love."—
Jim Piechota, Edge Media
"
Didn't Nobody Give a Shit What Happened to Carlotta
expertly balances the seriousness of the criminal legal system with the irreverence, absurdity, humor, and healing connections of Carlotta's world."—
Sarah Neilson, them.com
"James Hannaham's
Carlotta
is an astonishing act of empathy and identification, which will shake readers out of their torpor and remind them that fiction at its highest is a form of metempsychosis. Carlotta steps off the page and into your room, and stands there, implacable, educating you on her terms."—
Lucy Sante, author of Low Life: Lures and Snares of Old New York
"Engrossing… A brash, ambitious novel carried by an unforgettable narrator… in its day-in-the-life framing, hyperlocality, and rhetorical invention, [
Didn't Nobody Give a Shit What Happened to Carlotta
] is also an homage to
Ulysses
… Carlotta deserves a lot of things society rarely provides to women like her—among them, a role in great fiction. Hannaham gives Carlotta her due."—
Kirkus (starred review)
"Hannaham has created a gloriously original character with an unmistakable voice and an unforgettable story… Carlotta's journey from Ithaca, carrying her talisman, antagonizing a one-eyed man, and plunging into a drug-induced fever dream while seeking a lost son, echoes another linguistically brilliant novel, James Joyce's
Ulysses
."—
Booklist (starred review)
"This is the fastest, funniest, and most furious novel I've read in ages. In James Hannaham's blistering prose, his heroine's return from the American gulag to gentrified Brooklyn becomes an odyssey through the absurd, cruel, and sometimes miraculous condition of being poor, Black, and trans in a system and a city determined to erase the Carlottas of this world. The book is a tour de force of a spirit undefeated by this journey."—
Adam Haslett, author of the national bestseller and Pulitzer Prize finalist Imagine Me Gone
"As if by means of some mashup of Hubert Selby, Darius James, and Bruce Wagner, James Hannaham's tripwire provocations and dazzling verbal fireworks give way to a fathomless tenderness and remorse. His Carlotta is spectacularly Brooklyn and devastatingly human all the way down to the bone."—
Jonathan Lethem, New York Times bestselling author of Motherless Brooklyn
"Possibly the most raucous, exuberant, and edgy 
Odyssey
 retelling in recent memory (if ever), Hannaham's novel reimagines the epic Greek wanderer as Carlotta Mercedes, a Black Columbian trans woman recently released from prison in Ithaca, New York, after a twenty-year sentence."—
Crime Reads
"Hannaham's latest novel is at once irreverently funny and devastatingly sad, a quixotic tale about the queerness of missed time; how, for the most marginalized, the shackles of the past and uncertain promises of the future make dwelling in the present seem impossible."—
Michelle Hart, Electric Lit
Praise for Delicious Foods
"[A] sensational new novel about the tenacity of racism and its bizarre permutations... bounce[s] off the page with the sharpest, wittiest, most unsettling cultural criticism I've read in years... Hannaham is a propulsive storyteller... the whole story speeds through the dark... never takes its foot off the gas... An archetypal tale of American struggle... Reminiscent of Edward P. Jones's
The Known World
...[A] fantastically creative performance... [An] insightful and ultimately tender novel... You will devour this book."—
Ron Charles, Washington Post
"A writer of major importance... Moments of deft lyricism are Hannaham's greatest strength, and those touches of beauty and intuitive metaphor make the novel's difficult subject matter easier to bear... The novel's finest moments are... in the singular way that Hannaham can make the commonplace spring to life with nothing more than astute observations and precise language."—
New York Times Book Review
"Hannaham's prose is gloriously dense and full of elegant observations that might go unmade by a lesser writer. There is a great warmth in this novel that tackles darkness... [Hannaham] creates full-bodied characters. Even the minor figures are drawn with subtle details... Hannaham's decision to give a voice to crack—in the character Scotty—occasions some lively and inventive writing. Scotty has swagger and a sly sense of humor, and when he narrates he holds your attention... The character is complex, both tender and ruthless... A grand, empathetic, and funny novel about addiction, labor exploitation, and love...
Delicious Foods
should be read for its bold narrative risks, as well as the heart and humor of its author's prose."—
Roxane Gay, Bookforum
"Harrowing... Hannaham details a cycle of despair and enslavement in the poverty-ridden South... What emerges is the powerful tale of a place whose past is 'a ditch so deep with bodies it could pass for a starless night.'"—
The New Yorker
"
Delicious Foods
has plenty of magic in it, and plenty of tragedy... A powerful allegory about modern-day slavery,
Delicious Foods
explores the ways that even the most extraordinary black men and women are robbed of the right to control their own lives... [Hannaham] is serious about investigating the long-term effects of internalized racism, and the despair that prevents people from helping themselves... A sharp critique of the American belief that you can do anything as long as you work hard."—
Entertainment Weekly
"The novel's unforgettable cast... satisfies all our readerly cravings and without ostentation... The story's twists are at times implausible but nonetheless are a great feat of imagination. Hannaham has put his characters in the perfect conditions for these issues to play out--and for us to believe them... From what we've seen go down at Delicious, from the tenacity of this mother and son, we know it's love that keeps us going. Love is a rock every bit as hard as those diamond stars. Its indestructible beauty is enough to break down the earthly rocks that are its meager imitations."—
The Rumpus
"James Hannaham's satirical and darkly humorous look at racism, drugs, and the American South begins intensely... and doesn't let up... This brutal and beautiful tome is irresistible."—
USA Today
"
Delicious Foods
is not a story about the death of the American Dream, but an illumination of the fantasies that surround it, and the denial that permits us to believe in its innocence. It is also a compelling and haunting tale of family, responsibility, and endurance."—
Guernica
"An audacious, heartbreaking story... that is intended to be allegorical, but unearths a horror that is real and whose roots reach all the way back to slavery... Hannaham brilliantly creates a metaphor for human trafficking, modern-day industrialism, the pernicious effects of the war on drugs, and society's greedy need for 'quality' delivered as cheaply as possible...
Delicious Foods
stay[s] in the mind... A breathtaking depiction of how difficult is to break a spirit down, and how stubborn and resilient people can be. "—
Maclean's
"Strange and often haunting, Hannaham's brilliant look at the parent and child relationship, and the things that can tear that normally unbreakable bond apart, could be one of the best novels of 2015."—
Men's Journal
"Disturbing and addictive... This dark story is horrific, engrossing, deeply moving, and surprisingly funny at times... The subject matter in this tale of survival is uncomfortable and unfortunately all-too believable, but Hannaham's inventive storytelling and care for his characters fill this bleak world with much needed hope and love.
Delicious Food
s is hard to swallow at times, but also hard to put down."—
Winnipeg Free Press
"In lesser hands, Delicious Foods could easily have been a dark and dreary saga of misery and pain. Instead, Hannaham gleefully rides the lightness. There is no dwelling in sorry here—only movement to find a way forward to something better. No matter how bad things get, you are breathing, you are alive. Therein lies the joy."—
The Root