You are here
Back to top
Death, Doom, and Detention (Darklight #2) (Paperback)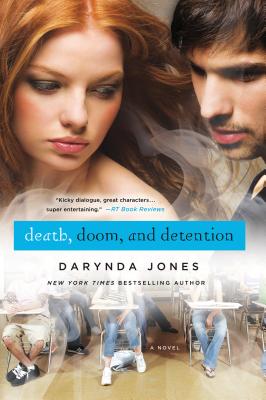 $18.99

Usually Ships in 1-5 Days
Description
---
In New York Times bestselling author Darynda Jones's Death, Doom and Detention, the normal part of Lorelei MacAlister's life didn't just slip away quietly the day Jared Kovach came to town. Nope. The normal part of her life shattered. It exploded. It burst into a gazillion shards of fleeting light.

It went out with a bang.
Goodbye normal.
Hello dark and eerie.

While her best friend, Brooklyn, is focusing all of her energy on helping Lorelei hone her abilities, Lorelei is dealing with the reality that Satan's second in command has taken up residence inside her body. Oh, and the fact that she has a crush on the Angel of Death. But what a beautiful death it is. If those weren't bad enough, something sinister has come to town and it wants nothing more than to hear Lorelei's dying breath as it strangles it out of her. Thank goodness the gang has a supernatural champion. But what happens when the only being who can save them switches sides midstream? How can a group of misfits capture one of the most powerful beings ever created? And will they find out how to bring Jared back to them before it's too late?
About the Author
---
New York Times and USA Today bestselling author Darynda Jones has won numerous awards for her work, including a prestigious RITA, a Golden Heart, and a Daphne du Maurier, and her books have been translated into 17 languages. As a born storyteller, Darynda grew up spinning tales of dashing damsels and heroes in distress for any unfortunate soul who happened by, certain they went away the better for it. She penned the international bestselling Charley Davidson series and is currently working on several beloved projects, most notably the Sunshine Vicram Mystery Series with St. Martin's Press and the Betwixt and Between Series of paranormal women's fiction. She lives in the Land of Enchantment, also known as New Mexico, with her husband and two beautiful sons, the Mighty, Mighty Jones Boys.
Praise For…
---
"Forbidden love, jealousy, imminent apocalypse… they're all here! . . . You really can't go wrong with this snazzy supernatural tale." —School Library Journal