You are here
Back to top
Uncompromised: The Rise, Fall, and Redemption of an Arab-American Patriot in the CIA (Hardcover)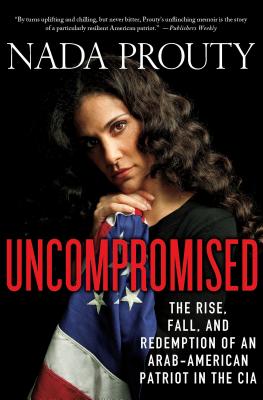 $26.00
Hard to Find - Unlikely to be Available
Description
---
"Nada Prouty served her country loyally, with distinction, and, as universally acknowledged by her colleagues, with great personal courage as a CIA covert officer. This tale of rampant trampling of citizen's rights is a vivid reminder of the responsibility of citizens to be vigilant against unaccountable government overreach if we hope to keep a strong democracy, where the rule of law prevails and where a citizen is presumed innocent until proven guilty."
-Valerie Plame, author of Fair Game
When Nada Prouty came to the United States as a young woman, she fell in love with the democracy and freedom of her new home. After a childhood in war-torn Lebanon with an abusive father and facing the prospect of an arranged marriage, she jumped at the chance to forge her own path in America-a path that led to exciting undercover work in the FBI, then the CIA. As a leading agent widely lauded by her colleagues, she worked on the most high-profile terrorism cases in recent history, including the hunt for Saddam Hussein and the bombing of the USS Cole, often putting her life on the line and usually getting her man.
But all this changed in the wake of 9/11, at the height of anti-Arab fervor, when federal investigators charged Prouty with passing intelligence to Hezbollah. Lacking sufficient evidence to make their case in court, prosecutors went to the media, suggesting that she had committed treason. Prouty, dubbed "Jihad Jane" by the New York Post, was quickly cast as a terrorist mastermind by the relentless 24-hour news cycle, and a scandal-hungry public ate it up.
Though the CIA and federal judge eventually exonerated Prouty of all charges, she was dismissed from the agency and stripped of her citizenship. In Uncompromised, Prouty tells her whole story in a bid to restore her name and reputation in the country that she loves. Beyond a thrilling story of espionage and betrayal, this is a sobering commentary on cultural alienation, the power of fear, and what it means to truly love America.
About the Author
---
Nada Prouty was an undercover spy for the FBI and CIA for over a decade, working on a host of high-profile terrorism cases, including the bombing of the U.S.S. Cole. She was also part of the team that developed the intelligence on the whereabouts of Saddam Hussein. Today, Prouty cares for her two young children, speaks about her experience nationwide, and awaitsthe reinstatement of her citizenship.
Praise For…
---
'Nada Prouty tells her incredible life story.' – Marie Claire

'A dramatic memoir . . . Prouty remains a fierce yet wary patriot.' – MORE

'The heroic efforts of journalists to uncover the truth resonate in this era of punditry . . . Prouty provides a unique perspective on the war on terror.' - Booklist

'Nada Prouty served her country loyally, with distinction, and, as universally acknowledged by her colleagues, with great personal courage as a CIA covert officer.Her story of service is riveting but pales in comparison to the horrors she suffered as a result of the hubris of a heavy-handed prosecutor. Even though the investigation into Nada's actions and loyalty was totally discredited by a CIA counterintelligence investigation, an out of control prosecutor, apparently accountable to nobody, took from Nada virtually everything she cherished - her job and even her US citizenship.This tale of rampant trampling of citizen's rights is a vivid reminder of the responsibility of citizens to be vigilant against unaccountable government overreach if we hope to keep our democracy strong where the rule of law prevails and where a citizen is presumed innocent until proven guilty.' - Valerie Plame, author of Fair Game

'Nada Prouty's story reads like a Greek tragedy or a Dickensian novel. As an FBI Agent and later CIA Officer, Prouty conducted countless high-threat counterterrorism missions with more courage and conviction than most of us could muster in a lifetime. While Prouty served the United States government, her adoptive country of America, and all its citizens in a manner both superlative and selfless, she suddenly found herself caught in a maddening labyrinth of distrust and deception in which she is accused of being an enemy of the very people she sought to protect. Even after Prouty is exonerated and vindicated, her story remains one of tragic loss - to our country. Intelligence officers of Ms. Prouty's intellect, abilities and determination are few and far between. In this extraordinary story, we encounter a heroine who emerges as both human and superhuman. Anyone who cares about our country and its ongoing fight against terrorists will be stunned by this personal and political saga.' - Lindsay Moran, former CIA Operations Officer and author of Blowing My Cover: My Life as a CIA Spy

'A decorated FBI Special Agent and CIA operations officer, Nada Prouty is a true uncompromised patriot. It is deeply disturbingthat in a country that prides itself on equanimity in the realm of law, racially-biased prosecutors used fear to justify their misguided prosecution of someone who had repeatedly put her life on the line in defense of the United States. At a time when Prouty's proven skills are so desperately needed to fight terrorism, the short-sightedness of an overreaching prosecution for political and personal gain has compromised our nation's security.' - Stephanie Bellistri, chief of CIA's operational unit to counter terrorist use of WMD

'Nada Prouty's story is as instructive as it is inspirational. She has performed many heroic deeds in the service of the United States of America, from her work, obtaining confessions from Abu Nidal Organization terrorists who had murdered and maimed in a botched airliner hijacking to the months she spent operating undercover, pregnant and alone, in some of the most dangerous war-torn streets in the Middle East. I later stood by helplessly as her adopted United States turned upon her like a wounded animal, during a time of high-emotion and pain after 9/11, and accused her of being a traitor, when she had already risked more to defend this country than tens-of-millions of her fellow U.S. citizens could possibly imagine. The U.S. needs each of us to contribute to national security, and the reckless persecution of minorities and the foreign born will doom our values and way of life much more completely than our foreign enemies.' - Michael P. Dorris, FBI Special Agent (retired)