You are here
Back to top
A Touch of Minx (Mass Market)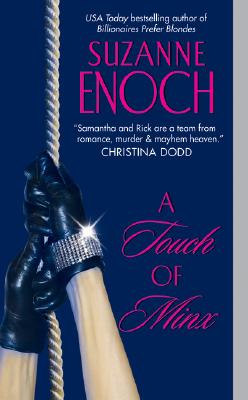 Description
---
Who says crime doesn't pay?
A year ago, Samantha Jellicoe robbed from the rich and gave . . . to herself! Now, though, she's using her larcenous skills for good as a private security consultant, trying to walk the high road for her sexy billionaire boyfriend, Richard Addison, and asking herself if there's anything more torturous than tracking down priceless artifacts (only to give them back!).
So when the Metropolitan Museum of Art asks for her help, she's only too happy to leap into the fray again: If nothing else, this adventure will help her avoid that little (not!) sparkly item Rick's been hiding in his pocket, and postpone another kind of walk—down the aisle. It's only when she's targeted by a deadly adversary after the same treasure that Sam starts to think that "till death do you part" is maybe the lesser of two evils . . .
About the Author
---
A native and current resident of Southern California, Suzanne Enoch loves movies almost as much as she loves books. When she is not busily working on her next novel, Suzanne likes to contemplate interesting phenomena, like how the three guppies in her aquarium became 161 guppies in five months.